Saturday, February 04, 2023, 10:30 AM - 12:00 PM

Fall 2022 & Spring 2023 Curriculum
The curriculum is dedicated in loving memory of:
Dr. Ben Christensen & Dr. Kathee Christensen
WHO IS MY NEIGHBOR?
Unity in Love: We seek to strengthen commitment to a collective understanding of unity—that we embrace our diversity and turn from divisiveness. This curriculum provides opportunity for renewed and deeper understanding that we are connected to all people. Through expression of our diversity we can become united and "love one another."
Being Human Takes Practice
Rev. Dr. Carter will have us realize more deeply than ever what it means to be spiritually human with others by diving into the parable of the Good Samaritan told by Jesus.
Speaker: Rev. Dr. Christopher Carter
Saturday, February 4, 2023
10:30 AM - 12 noon
Following the presentation, you are invited to stay for optional lunch and conversation.
The cost for lunch is $12.
RSVP by 2/2
IF YOU NEED HELP REGISTERING, PLEASE CONTACT THE CHURCH OFFICE 619-297-4366 Ext.100
Location: Linder Hall
First United Methodist Church, 2111 Camino Del Rio S., San Diego, CA 92108
About the speaker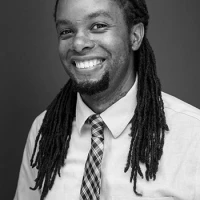 Rev. Dr. Christopher Carter is an Associate Professor of Theology at the University of San Diego; a Faith in Food Fellow at Farm Forward; and Lead Pastor of The Loft in Westwood, CA. His teaching, research, and activist interests are in Black, Womanist, and Environmental ethics, with a particular focus on race, food, and nonhuman animals. He is the co-creator of Racial Resilience, an anti-racism and anti-bias program that utilizes the combined insights of contemplative practices and critical race theories. His academic publications include The Spirit of Soul Food (University of Illinois Press, 2021), and "Blood in the Soil: The Racial, Racist, and Religious Dimensions of Environmentalism" in The Bloomsbury Handbook on Religion and Nature (Bloomsbury, 2018). He believes that at its broadest level, learning should transform how the student views herself, her neighbor and her worldview.
SDSCS relies on funding from sponsorships and donations.

HOW TO BECOME A SPONSOR TO SDSCS