Getting to Know Your Apostles
Our Altar of the Twelve Apostles was designed by Reginald F. Inwood between 1961 and 1964 as the architectural focal point of our entire sanctuary. It is a gift from Inwood to all of us, in honor of his parents, the Rev. E. J. and Jeanette Inwood. Rev. Inwood was pastor of our church in 1903/4 when it was still located downtown across the street from Horton Plaza.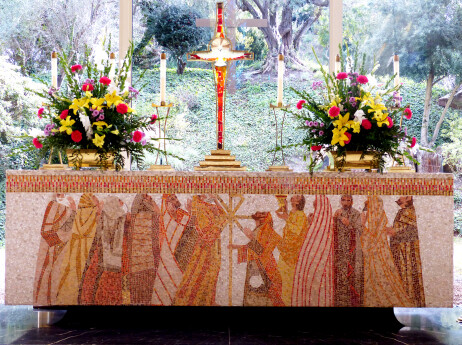 The design is entirely original and underwent at least ten revisions during a three-year-long creative process. Live models were used during the design phase for the figures, faces and hands. Small blocks of tile with over 100 different colors were used. The altar rests on a black pedestal that gives the impression that it is hovering above the chancel floor.
But who are the figures on the front of the altar? They are the Twelve Apostles at the very moment of Pentecost.
Come closer and see for yourself!
Jim Jackson, Church Historian