Sunday, September 22, 2019, 7:00 PM - 8:30 PM
First Church welcome Stephen Tharp - International Concert Organist and Recording Artist.
Stephen Tharp's program will include organ works of J. S. Bach, French masterworks and transcriptions of Mozart and Ravel, and music by the American organist/composer George Baker. The concert will conclude with a grand improvisation on submitted themes.
An offering will be taken and a reception will follow the concert. Child care is available by advance registration at 619-297-4366.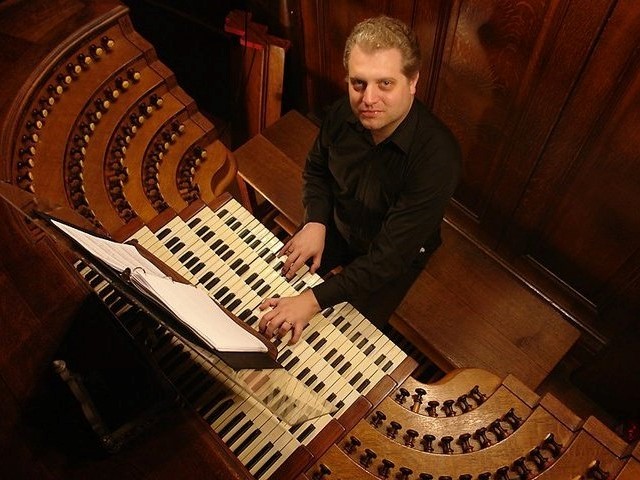 Stephen Tharp earned his BA degree, magna cum laude, from Illinois College, Jacksonville, IL and his MM from Northwestern University, Chicago, where he studied with Rudolf Zuiderveld and Wolfgang Rübsam, respectively. He has also worked privately with Jean Guillou in Paris.
Since November 2014, he has been Artist-in-Residence at St. James' Church Madison Avenue in New York City.
Stephen Tharp, hailed as "the organist for the connoisseur" (organ - Journal für die Orgel, Germany), "the thinking person's performer" (Het Orgel), "every bit the equal of any organist" (The American Organist" magazine) and "the consummate creative artist" (Michael Barone, Pipedreams), is recognized as one of the great concert organists of our age.
Having played more than 1600 concerts across 53 tours worldwide, Stephen Tharp has built one of the most well-respected international careers in the world, earning him the reputation as the most traveled concert organist of his generation. He is listed in Who's Who in America and Who's Who in the World, and has been given the 2011 International Performer of the Year Award by the New York City chapter of the American Guild of Organists. In May 2015, he was given the Paul Creston Award which recognizes artistic excellence by a significant figure in church music and the performing arts.