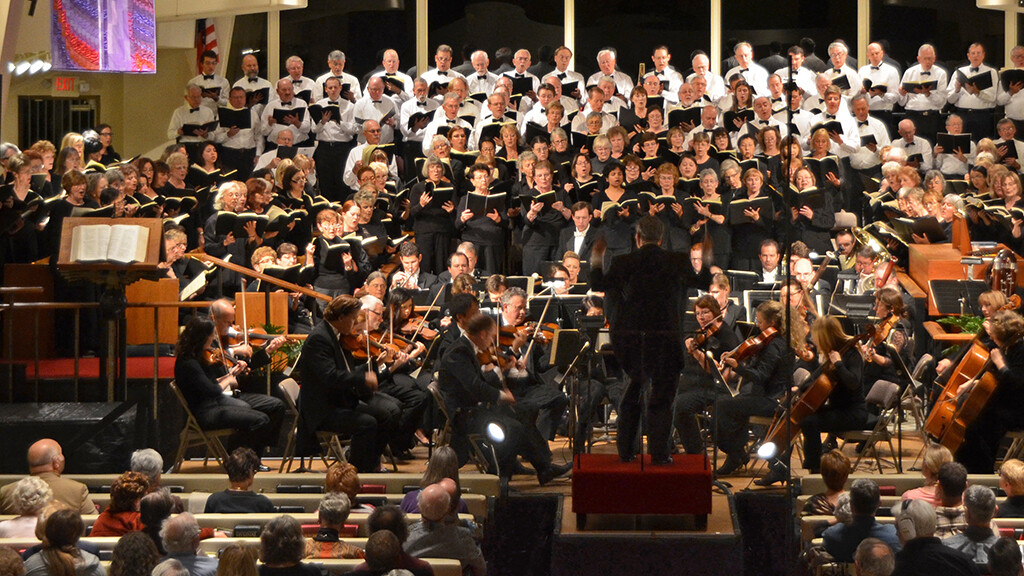 Resurrecting Brahms concert after two years of silence
Two years ago, in March 2020, the First Church Chancel Choir, Masterwork Chorale and director Stan Wicks were putting the final musical touches on Johannes Brahms' beloved Ein deutsches Requiem (A German Requiem) for a performance on Palm Sunday evening in April. And then covid happened and the concert was postponed—for two years! In the interim both choirs shut down and Stan retired as Director of Music, Worship and the Arts. Last June, the Chancel Choir once again began to sing in worship services but the Masterwork Chorale, our community-based choir, was still silent. Finally, in January of this year, Brahms' beautiful masterwork was "resurrected" thanks to Jaebon Hwang, our current Director of Music/Organist and Edwin Basilio, Interim Director. This month Stan Wicks will return to lead the choirs in his final concert at First Church on Palm Sunday, April 10. Here is an updated version of the article he wrote exactly two years ago:
Lenten Choral Concert Returns in 2022
The Cultural Events Committee of First United Methodist Church of San Diego cordially invites you to our annual Lenten Choral Concert on Palm Sunday, April 10, 2022 at 7 PM in the Sanctuary. The 100-voice combined Chancel Choir, Masterwork Chorale, Amy Mein, soprano, Christopher Stephens, bass-baritone, 42 members and friends of the San Diego Symphony and Jaebon Hwang, organist, will present Johannes Brahms' Ein deutsches Requiem (A German Requiem) under the direction of Stanley M. Wicks, conductor.
Johannes Brahms (1833-1897) composed his "German" requiem over a period of time (1861-1869), adding sections and culminating in a seven-movement work. The title refers to the fact that it was written in the German language and was not related in any way to the Roman Requiem mass, which follows a prescribed set of liturgical texts in Latin. The libretto draws upon a set of texts from the Old and New Testaments of the German Bible. The music expresses feelings of human frailty and death along with God's promises of comfort and triumph over death.
A free-will offering will be received at the concert. Child care is available by RSVP to the church office: 619-297-4366. For those who are not able to attend the concert you are welcome to come to our open rehearsal on Saturday, April 9, which begins at 2 PM.