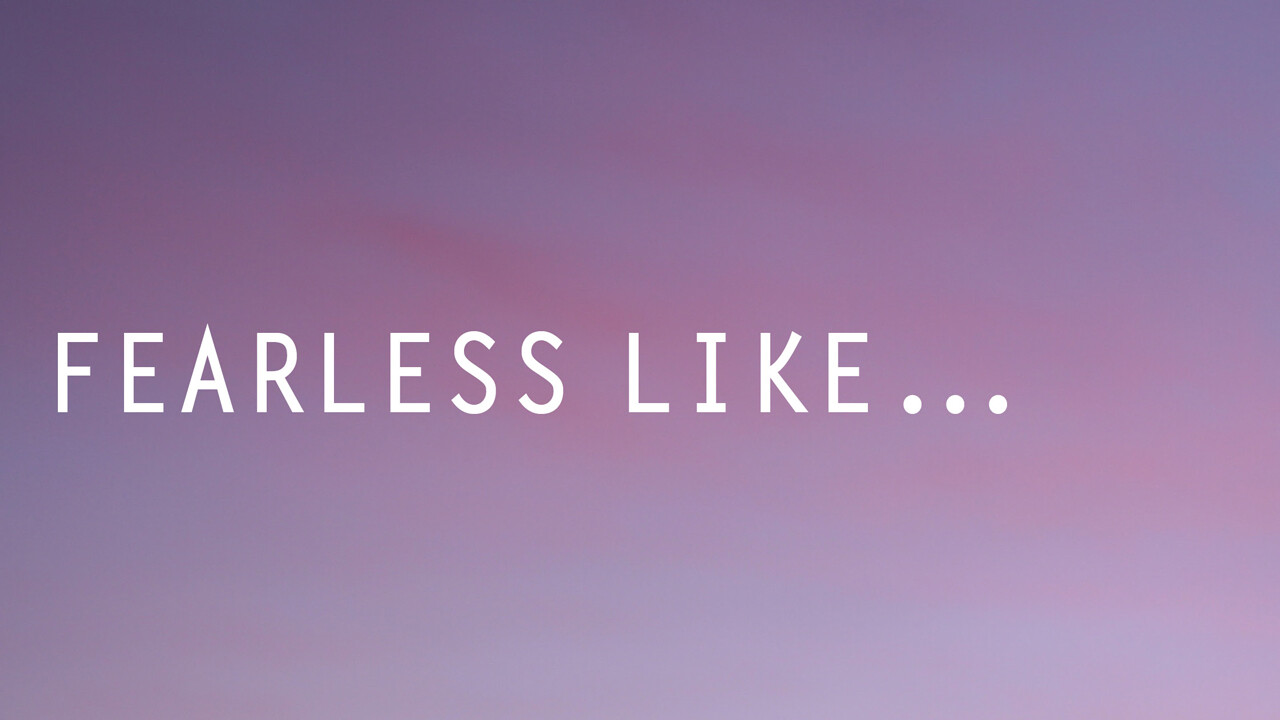 Fearless Like a Few Friends and a Challenge
Do you remember a few years back, everywhere you looked there was some type of challenge on your social media? Somebody somewhere was hashtagging this and tagging them, watching a video of someone on the other side of a screen was a challenge in itself. But there I was, alone feeling somewhat challenged. Dr. Phil (not that Dr. Phil) challenged us to reconsider the word sabbatical, and to reconsider giving something up for Lent, but rather to dedicate yourself to something for Lent. While this sounded like a challenge in itself, it was a new perspective, a new way of looking at things. While I realized that I was living many aspects of my life in a new way, encountering new challenges, new responses to those challenges, working with a new team in a new environment, in a brand-new role, I knew that I may not get through the challenge alone. I paused. I pivoted. I prayed. (I ran.) I listened. And then?
I dialed up a few of my new friends and asked them to join me in a Lenten reading circle.
"A what?"
"For real?"
"Sure dude, I'll give it a try."
"Okay, but I don't know how much I'll contribute."
Those were a few of the responses I got from my then new work friends, my now lifelong friends who my daughters see as family. I created a calendar, I assigned readings, I highlighted the Sunday days off, to make sure they would buy in, I sent the email and text reminders and I waited. I watched. I was caught up in the buzz of it all, watching and eagerly listening each week when we met, and one person led the discussion, and others would listen intently, and then amazingly each person of our quartet began to share from their heart. Some Tuesdays, tears would flow. Most Tuesdays laughter was lifted. Each Tuesday we joined in prayer. Each night of Lent 2019, I read from our little red book. In fact I read each chapter twice those nights. I meditated on key words and phrases each night of Lent 2019. Something was changing.
By Easter Sunday, I felt stronger. One little red book, and one group of four friends forever changed me. We became our own little church within the church, while at work; wonderful! What was even better, was that we followed it up with two more work buddies the following year before the Pandemic, Lent 2020. Four plus two more. What was a lunch bunch, was now a Lenten reading circle. Reading another little red book. Again, I read each night, each devotional twice, meditation and prayer to bring each reading to a close. Soon solitude and the wilderness were upon us all. Our faith would be tested, and Easter would certainly look different. But on I read. Little red book number two. Lenten Reading Circle year two. This Lenten season, how may God be encouraging you to try something new?
Thru
Beyond
Gracious God, Creator of all things, fill us with hope. Heal us where we have been hurt, Forgive us where we have hurt others, grant us the courage to forgive those who've caused us harm and hurt. Lord this Lenten season fill us where we are broken, so that we may serve Your people, here on Your Earth in Your unconditional language of love that knows no barrier, nor border. In Your name we pray.
Red Book 1- Five Means of Grace: Experience God's Love the Wesleyan Way by Elaine A. Heath
Red Book 2- Bread for the Resistance: 40 Devotions for Justice People by Donna Barber
Kenton Reaves Hundley
Subscribe to the Daily Lenten Devotional