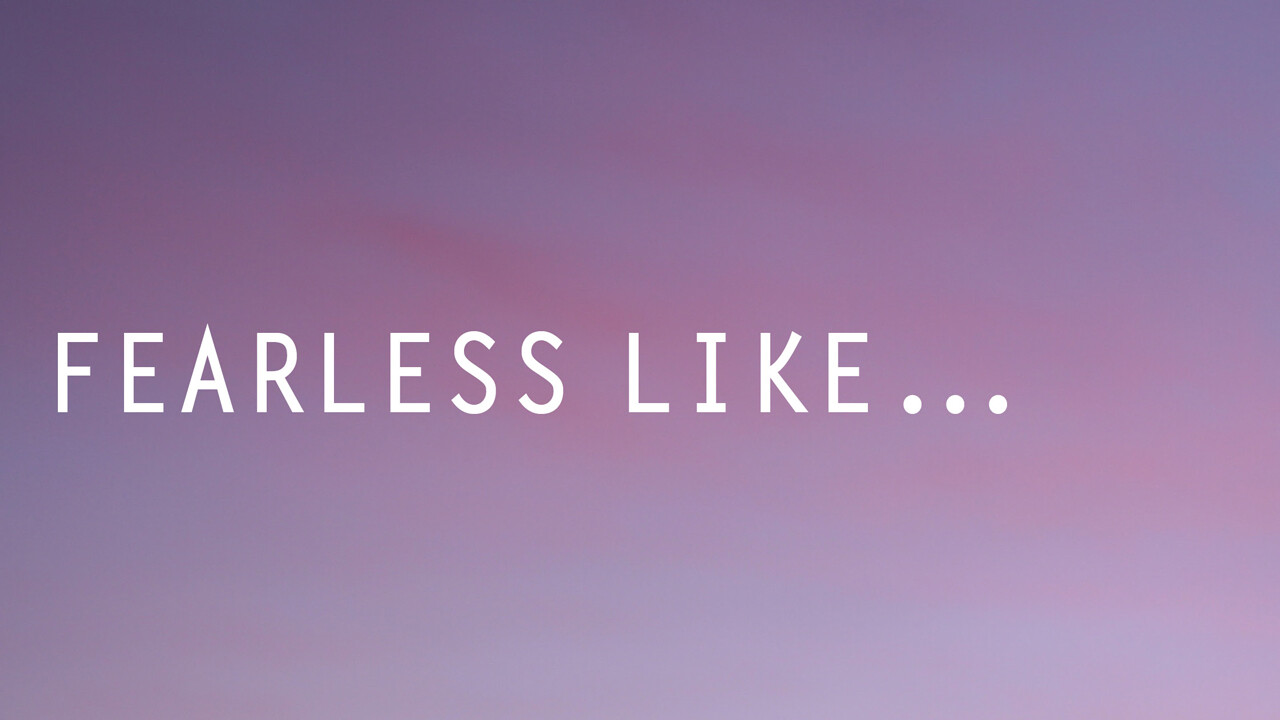 Fearless on Holy Saturday
Saturdays are typically thought of as good days. Days off. Days to sleep late, rise slowly, savor morning coffee. Days to explore, find adventure, play. Days to break away from the routine of work, school, life, and be surprised.
Except this Saturday. This Saturday reminds us that not all of life's surprises are good. Saturdays can be long, drawn out periods of time that confront us with the dismantling of routines and safety. Saturdays when you cannot get out of bed. Saturdays when death is all around you. Saturdays when the empty darkness of the tomb is all there is. Saturdays when the tomb is sealed up tight and there is no way out.
On Saturday, Jesus was in the tomb. For three days. Three days can be weeks, months, years. Three days can feel like an eternity.
In the Eastern Orthodox tradition of Christianity, this Saturday is known as the Great Sabbath because Jesus rested. In the Western Christian tradition, this Saturday is known as Holy Saturday, marked with a vigil, a day of watching and prayer. Waiting for Sunday's light, hope, life. There is the belief that Jesus descended into hell, the realm of the dead, as the triumphant Savior, in order to bring salvation to all of the righteous who had died since the beginning of the world. In Roman Catholicism, this day honors Mary's grief as she mourned her son's death. On this day, Our Lady of Sorrows is assigned the title Our Lady of Solitude.
Saturday. A day of death, sorrow, hell,
Saturday. A day of solitude, prayer, waiting.
Can it also be a day of hope? For those who have been in the tomb for even one day, that is a stretch. It would require a great deal of faith. One would have to know the story of Jesus, not just in the Sunday school, happy-ending recitation of the story. But the lived-out, experienced, or at least witnessed, profound truth of the story. You know what I'm talking about. One would have to know what it is like to lose someone you love deeply and still put one foot in front of the other and keep on living. One would have to know what it is like to hear the prognosis, and still rise to live each day. One would have to believe in things unseen because in the Saturday tomb, you cannot see anything.
One would have to be fearless.
That kind of fearlessness doesn't come easily. We pray, implore and plead with God, like Jesus in the garden of Gethsemane. "No God, anything but this. Please…?" We wrestle with God, like Jacob wrestling with the angel. "I am not giving up, God, until you give me a blessing!" We scream, argue, and fight with God, like the Psalmist lamenting about abandonment. "Do not hide your face from me! Do not cast me off!"
And then, ultimately, we say with Jesus, "Not my will but yours." We say with Jacob, "I saw the face of God." We say with the Psalmist, "Wait for the Lord; let your heart take courage!"
Saturday changes everything. But it certainly doesn't end everything. Death is not the final word. Sunday comes. The tomb is opened. Life is given. We can be fearless forever onward.
Rev. Trudy