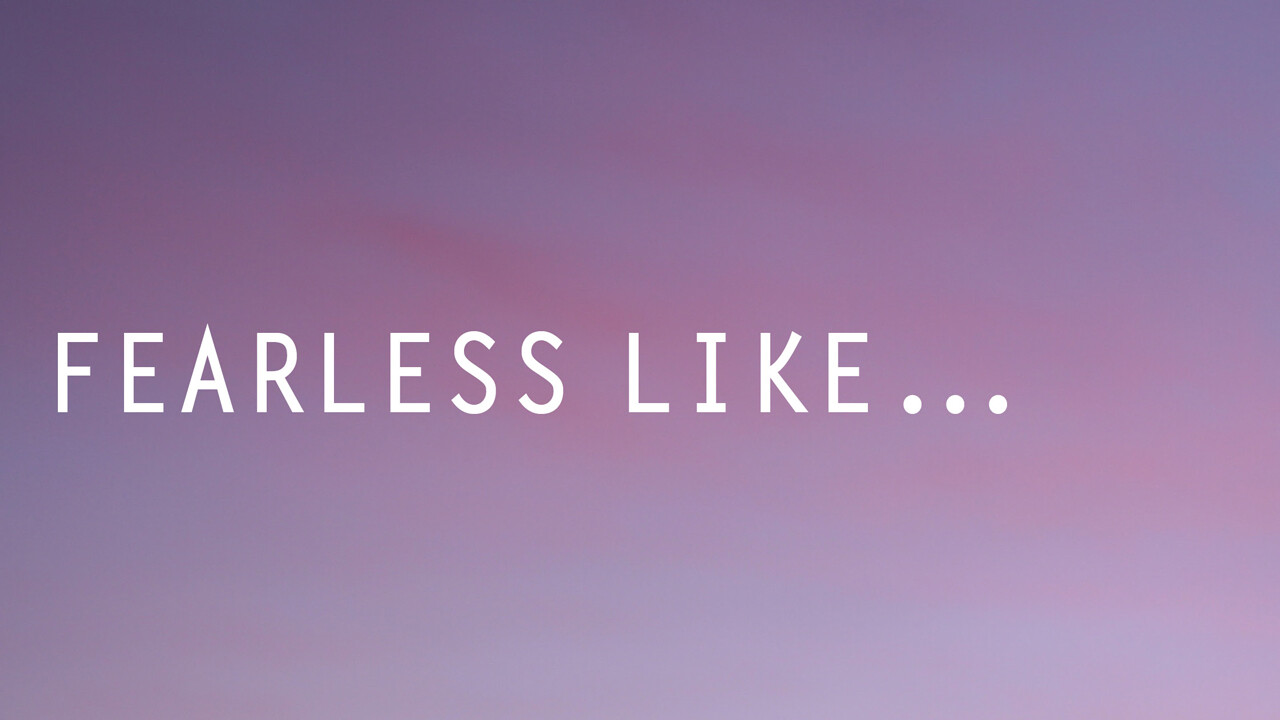 Fearless like any one of us in peril
 In a "test of one's faith" joke, a hiker stumbles on a mountain trail and tumbles over the edge, grabbing an exposed tree root at the last second before falling thousands of feet to certain death. Dangling there in fear, the hiker urgently shouts, "Is there anyone up there who can save me?"
 "Yes," replies a voice. "This is God."
 "Thank goodness," the man says. "Please pull me to safety."
 "You are already saved," the voice assures him. "I will always love and protect you. You can let go of that root."
 The hiker was stunned by these words. After a minute, he asked, "Is there anyone else up there?"
That dangling hiker joins many of us of the conflict between our proclaiming faith and truly living it; in trusting in the grace that God has bestowed upon us and thinking we alone have the answers. And when life grows uncertain and perilous, how easily we behave in ways that resemble the hiker's questioning of that covenant.
 My wife and I resigned our jobs, sold our house, and moved cross country to San Diego 34 years ago. We didn't even have a delivery address to give to the mover when he picked up our belongings. Dyanna needed to be living in an environment that wreaked less havoc on her circulation system as temperatures fluctuated. Once here, though, we both were working within a couple of months and were able to purchase our home well before the end of that first year.
 Dyanna and I jokingly told people afterward that we figured such a move would prove to be either a brilliant decision... or the dumbest thing the two of us could ever have attempted. And while the results speak for themselves, I came to realize that our faith in God and His love guided and protected us on that journey to a new life, beginning with our first discussion of the idea. The Bible offers many strikingly-similar accounts of God's people moving to new, often unknown, lands and the blessings that followed. Faith then and now has always provided assurance from God that, "I will always love and protect you."
Heavenly Father, we look to Your grace as our compass and protection in each act of immigration... whether it be a trip to some distant point on Earth or the decision to be more open in understanding and embracing someone who differs from us. Faith in You fortifies us against fear of the unknown... the uncertain... all that keeps us apart. Let our eyes be open to the path before us as followers of Jesus Christ. Amen.
 Lectionary Scripture Alternative
One writer called the Bible the "Ultimate Immigration Handbook." Joan Maruskin wrote, "The Biblical story is a migration story. The Bible is the story of the uprooted People of God seeking safety, sanctuary and refuge and the living God giving directions for welcoming the stranger.  From Adam and Eve, to Noah, Abraham, Moses to Jesus, Joseph and Mary... all found themselves on the move, migrating, looking for a better life."
Les Smith
Subscribe to the Daily Lenten Devotional