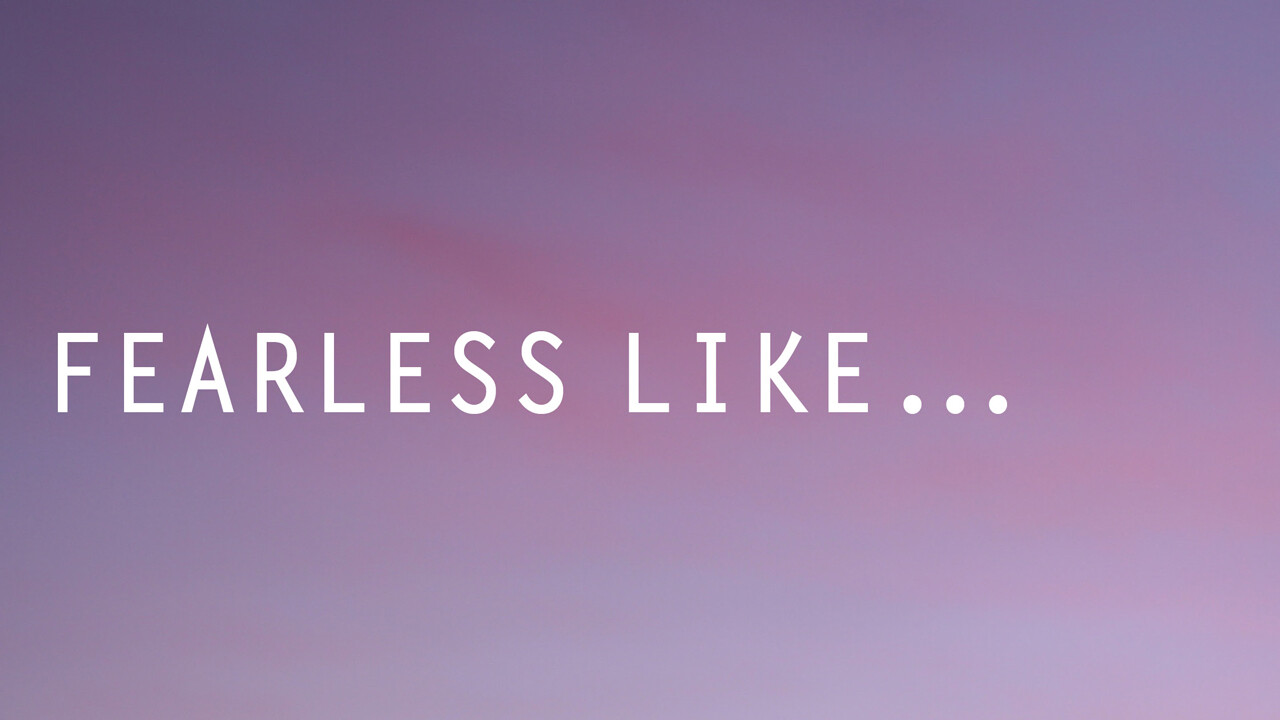 Fearless like Naomi
June 9, 2019 was the date that life changed forever. My loving husband of almost 50 years died of Alzheimer's. He fought a good fight and we stayed active until the last month when going somewhere meant going to the car and driving by.
Suddenly, or so it felt even though death was eminent, I was faced with the unthinkable decision of what to do next. More specifically, where to live. I would soon be facing a small fraction of our income and no place in my present city of San Diego, where I could afford to live. I felt God's presence as my husband passed, yet I struggled with my faith at the same time. I asked myself, do I really need to go to church and do I have to believe in anything specific as the end is all about love and connection. I cried out to God, "What am I supposed to do?" I had felt called to ministry years ago and Montana was my running away place.
We owned a house in Montana that we rented to a couple who were not actually paying rent. The house was in a state of demo, part of the destruction by me, back when my husband was skilled, and we were going to renovate. The move back to California had been urgent and thus the house was unsellable. It was there and a strong option. I prayed and prayed about this option. I would not be just running away. I believed that I could go and complete enough to sell the house or live there for the rest of my life. I felt the answer was to go without a guarantee of the next step. I took it with hope and trepidation.
I knew that the move would be difficult, after all driving to the store while grieving was "difficult". I planned and prayed. Two weeks set aside for travel, two months warning to renters that they had to move and then appropriately spaced family and friends to stay with while I traveled. I am not such a planner, yet reality and my very soul required it. The first day, I left my wallet at a rest stop and drove an hour without realizing that I did this. I drove back and the wallet was gone. I had no I.D.; it was all in the wallet. I was uncertain about my chances, as previously when my wallet was taken I needed my birth certificate to replace it. The DMV representative explained that he had no problem with me because he had my picture in front of him on the computer. OK, God, I know you have got my back.
Upon arriving in Montana, with my brother and his wife, we were met with a reluctant renter who needed more time to "clean the carpet." I was going to toss the carpet and knew that any delay was too much for me. Thus, I persevered, but as soon as my sister-in-law stepped foot into the house; she declared everything must stop and my brother should find the vacuum. Nothing was going into that house until the carpet was clean! After they were gone and I had surveyed the house, I found each space and room held a deeper disaster. I prayed and planned, again not my routine to plan. Where to start? I removed all the trash and ordered a portable dumpster for trash.
I needed support so I attended the local church where my friend from the Methodist church now attended. The Methodist church had closed years ago, and people either stayed home or joined the Presbyterian church. tried to talk to people, I volunteered to help with the lunch for high school students. The people I really knew were very frail and losing their memory. The Presbyterian pastor was in the office on Monday afternoons only. I felt like I was being drained every time I went to church. I gave of myself and tried to connect. I told God that I would have to put that job on hold while I worked on the house, because it was too much for this grieving heart to just give and not receive.
The next plan was construction. I worked with joy to remove floors stained with animal excrement and paneling from the 70's. Slowly, I made friends at the local hardware and found the correct people to ask questions. I needed people who respected my wisdom and my need for instruction. The greatest joy was completing a total renovation of the kitchen. Then, the bigger picture hit. How can I ever complete the whole house? I lived alone and death was still a reality in my heart and brain. I fell against the doorway, hitting my head on the frame, and told myself that I had to stay awake because no one was there to help. The reality of the situation was filling my heart with emptiness.
I asked a young neighbor, who I learned was a handyman, where to find a roofer. I had been waiting seven months for Lowes to install a new roof. Ok God, again you have my back. This roofer was finishing and could do my roof next week. My neighbor had a sign in his front yard expressing Jesus's love for all. I explained to him that my soul was distressed, and I was exhausted. He suggested that my house would sell as a fixer-upper. After more conversations and meetings, he offered to purchase my house, on contract with me. This would mean that I could stop trying to complete a task, that was now beyond my physical capacity and avoid losing the entirety of my savings from my husband's life insurance.
I learned how to use Zoom and reconnected with Water's Edge and FUMCSD worship services and Bible Study. I found my soul connected and my heart healing. I lived for the days when I could hear voices, that were known to my heart and listened to my pain, without rejection or expectation. OK again God, you are right to remind me that I need community and I need to know that I belong to you. I am not alone in this world. I belong where my soul is fed, nurtured and called.
I want to include the blessing that I received in Montana. God's help led me to the VA for an assessment of issues from my time in the service. I am blessed with an award that granted me the finances needed to return to my soul's home. All this happened in time for me to leave and arrive with a new home waiting.
The rest will be history.
Prayer* Psalm 25: 20-21
"O guard my life, and deliver me, do not let me be put to shame, for I take refuge in you.  May integrity and uprightness preserve me, for I wait for thee."
Barbara Eveland
Subscribe to the Daily Lenten Devotional