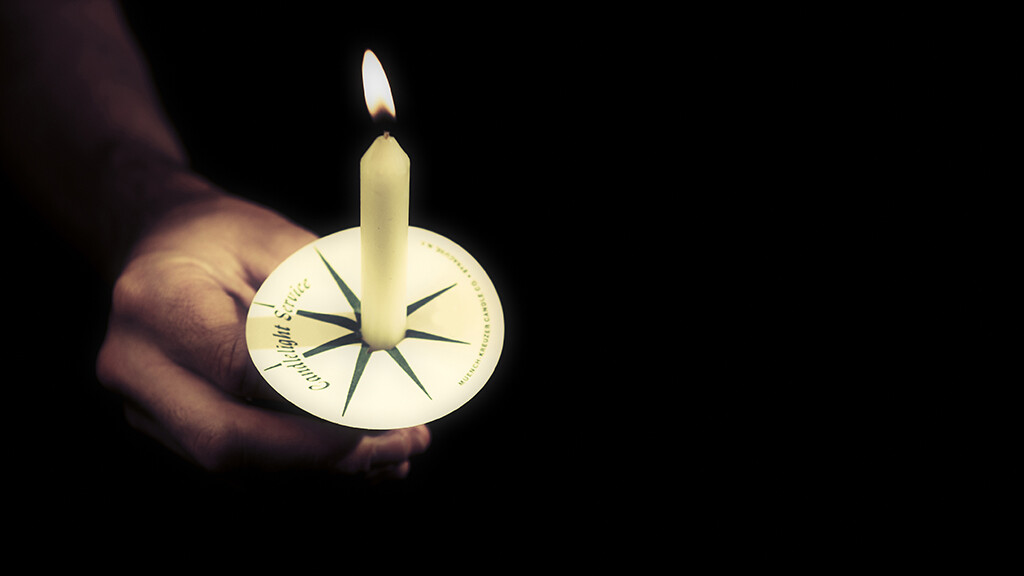 Participate in virtual candle lighting during worship!
Pick up your candles on Sunday, Dec. 13 from 2-4 PM during our drive-through food drive event. Take a selfie or group photo holding your lit candle and email it to by Dec. 18.
5 PM –watch here - Children's Christmas Eve Service
Gather the children and grandchildren together and join First UMC of San Diego for an interactive, child-oriented service that features a retelling of the Christmas story and many of our favorite Christmas songs.
As you gather for this special Christmas Eve Service, we invite you to collect some props from around your home. After each lesson you may choose to pause the presentation and act out the story as a family, promoting fun, learning and memory for all. Here is a list of ideas. Enjoy
Sheep = pets / any stuffed animals
Outfits = Towels / sheets/ shawls/ bath robes/parents shirts
Staffs = brooms / long sticks/ yard stick
Jesus = Baby doll / pet
Manger = Laundry basket / box that is big enough
Hay = Shredded paper
Donkey= broom / stuffed animal / pets/parent
Card table (with sign) = register office
Gifts = boxes / jars/ jewelry boxes that represent the gifts that the wiseman had
Camels = pets / stuffed animals/siblings
Crown = paper crown / toy crown / fun hat (and a sash if they want)
7 PM - Watch here – Festival of Lessons and Carols
Worship will be based on the service presented for the first time at King's College Chapel, Cambridge University, in 1918. Scripture readings are interspersed with carols, hymns and anthems, along with a brief homily by Rev. Trudy Robinson. The service concludes with the lighting of individual candles and singing "Silent Night." Carolyne DalMonte, soprano, will lead the congregational. Our combined Chancel Choir and Contemporary Singers have been working on a virtual choir project that will feature two anthems along with pre-recorded music by First Church's Vocal Quartet.
8:30 PM - watch here – Water's Edge Faith Community
Join us from home to safely sing your heart out to familiar Christmas carols that we need all the more this year. Join us for the story of Christmas – a story that promises a light coming into the world which cannot be overcome. Join in the candle lighting opportunity (see above) as we sing "Silent Night" together. We hope you join us, and invite friends and family near and far to share in the worship experience with you.