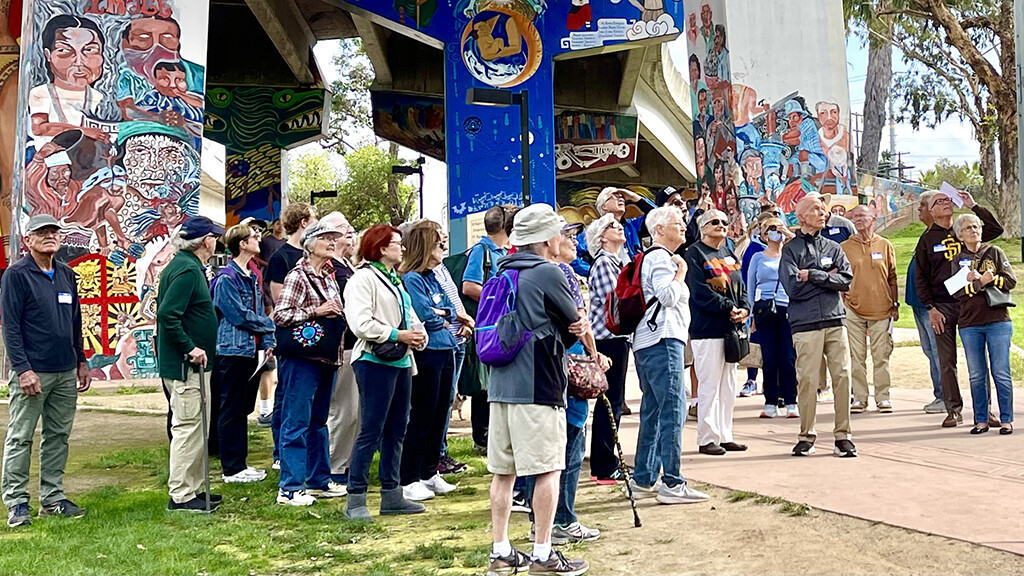 The San Diego School of Christian Studies, a Ministry of First United Methodist Church of San Diego, has a theme this year of: "Who Is My Neighbor." With that as our guide, forty-three of us took a field trip to San Diego's Chicano Park, which is located directly beneath the Coronado Bay Bridge in the Barrio Logan area. Many in the group have lived in San Diego for years, and this was our first visit to this fascinating place. Most of us had no idea what to expect, but it was more than we could have ever imagined. The lecture and tour were presented by Dr. Alberto Lopez Pulido of USD on October 22, 2022.
The history of this park is wrapped in protests and in the pride of the Mexican-American heritage of amazing immigrants who brought their history with them to America and passed it to their descendants. From Aztec culture to immigration to the Chicano political struggle to trying to get Wi-Fi for their community during Covid – it's all here in the park's vertical murals, filled with vibrant colors and poignant stories that grace pillars and abutments of the freeway overpass.
This peaceful seven-acre park is a National Historic Landmark, recognizing its artistic, cultural, and sociopolitical significance. It is home to the largest concentration of Chicano murals in the world. You can feel Mexican-American pride when you spend time in this sacred space. Love, compassion, heritage, ancestors, and culture are honored.
These are lessons to be learned from all our neighbors.
Barb Weicksel, FUMCSD member