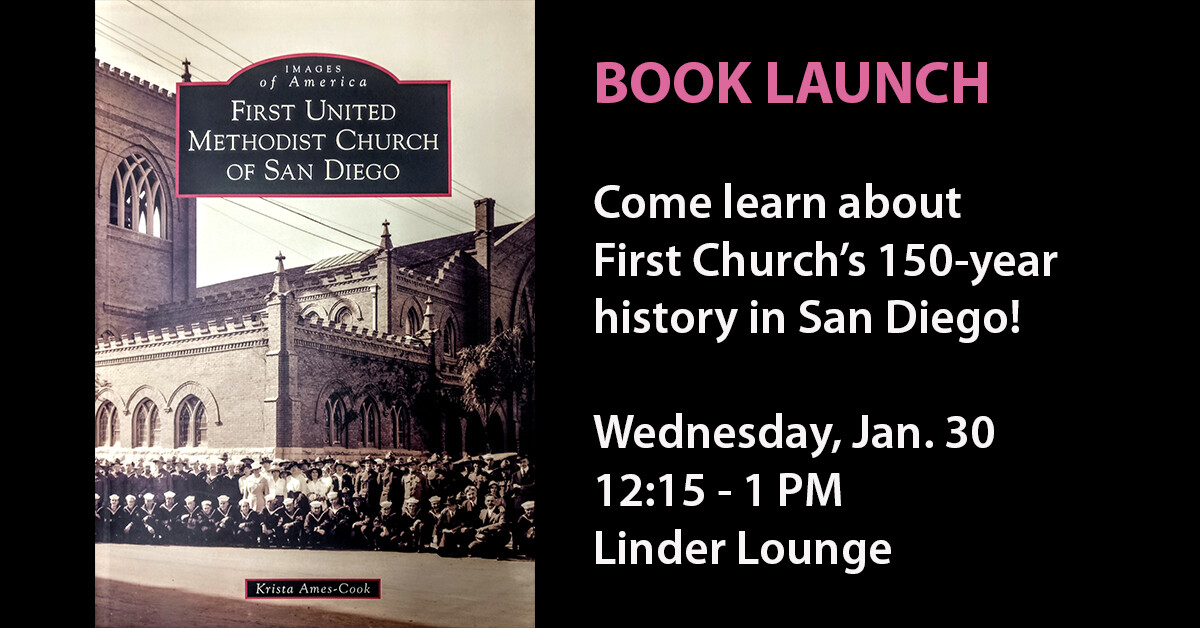 Come hear from author Krista Ames-Cook as she shares stories of joy and hope, along with images from First Church's history and her recently published book, IMAGES OF AMERICA: FIRST UNITED METHODIST CHURCH OF SAN DIEGO. This midday event will be the first opportunity to see and purchase the church history book in advance of its official launch in February.
Drawing on photographs and research from First Church and local community archives, Krista's book chronicles how Methodists have worshiped in several locations throughout San Diego, California, since February 1869. As the city grew, so did the church. The first locations were near the waterfront and in the neighborhood that is known today as the Gaslamp Quarter. From 1870 to 1906, the church was in the heart of what is now downtown near Horton Plaza. After a move few blocks northeast, the congregation worshiped from 1907 to 1964 in a Gothic Revival-style sanctuary designed by Irving J. Gill. Even with additions, First Church outgrew this space, and so it moved again in 1964 to a Spanish-contemporary-style church in Mission Valley. Over the years, the church's reach has expanded to multiple sites and many congregations.

Author Krista Ames-Cook will also be glad to sign books if desired. Books will be on sale for $25, but book purchase is NOT required to attend this event.
SPONSORS
Gold Level
Philip and Elaine Amerson; Dorothy Appleby; Kathee Christensen; Greg and Lyn Cobb; Kevin and Brandy Crislip; Robert and Demetra Divine; Arleigh and Linda Dotson; Jeri and Richard Eimers (after publication); John Hermann; Raymond Homan; Jim and Joanne Jackson; Karon Jarrard; Rev. Kevin Jones; Ed and Erica Knowles; Dan and Maria Lai; David Latham; Homer and Linda Moyer; Abby Sailors; Jessica, Tim, and Abigail Strysko; Dionne and Nick Taylor; Jason Tucker; Dave Watters; Bob Wilson (after publication); Cindy Whitmore; Joyce Wright
Silver Level
Steve and Carol Ames; Audrey Blevins; Louise Cavallin; Ramona Court; Marlene Giles and Michelle Trujillo; Dick (Clinton) and Marlys Hamann; Beckie Henselmeier; Elizabeth Holcomb; Philip and Sharon Jeter; The Kirk-Clark Family; Martha McPhail; Brian and Pamela Murray; Thomas and Eleene Myers; Lois Nelson; Gloria Patten-Lane; Carole Porter; John and Jan Roese; Debra and Joseph Rosevear; Lembi Saarmann; Stefanie and Kyle Scroggins; Robin and Connie Smith; Patricia Twyman; Rev. Molly Vetter and Matthew Parker