Wednesday, February 14, 2018, 11:30 AM - 12:15 PM
Come listen to our pipes!
We invite you to take break in your busy day. Sit down, relax and enjoy the beautiful music played on
a 108-rank, 4-manual Blackinton and Associates Pipe Organ, the largest pipe organ in San Diego County.
SECOND WEDNESDAY OF THE MONTH
11:30 am - 12:15 pM
FIRST CHURCH IN MISSION VALLEY
Each month you'll have a chance to listen to a different organist play a 45-minute free organ concert.
Stay for a light lunch | 11:45 AM - 12:45 PM | $8 RSVP/pay at the door
A hot, healthy lunch will be served cafeteria-style. Make your reservation by Monday same week and pay with cash or check at the door. RSVP in the church office on Sunday mornings, call during business hours (619-297-4366), or email with the names and dates of your RSVP.
February 14, 2018
Sean O'Neal
Director of Music & Organist at Holy Trinity Episcopal Church, Covina, CA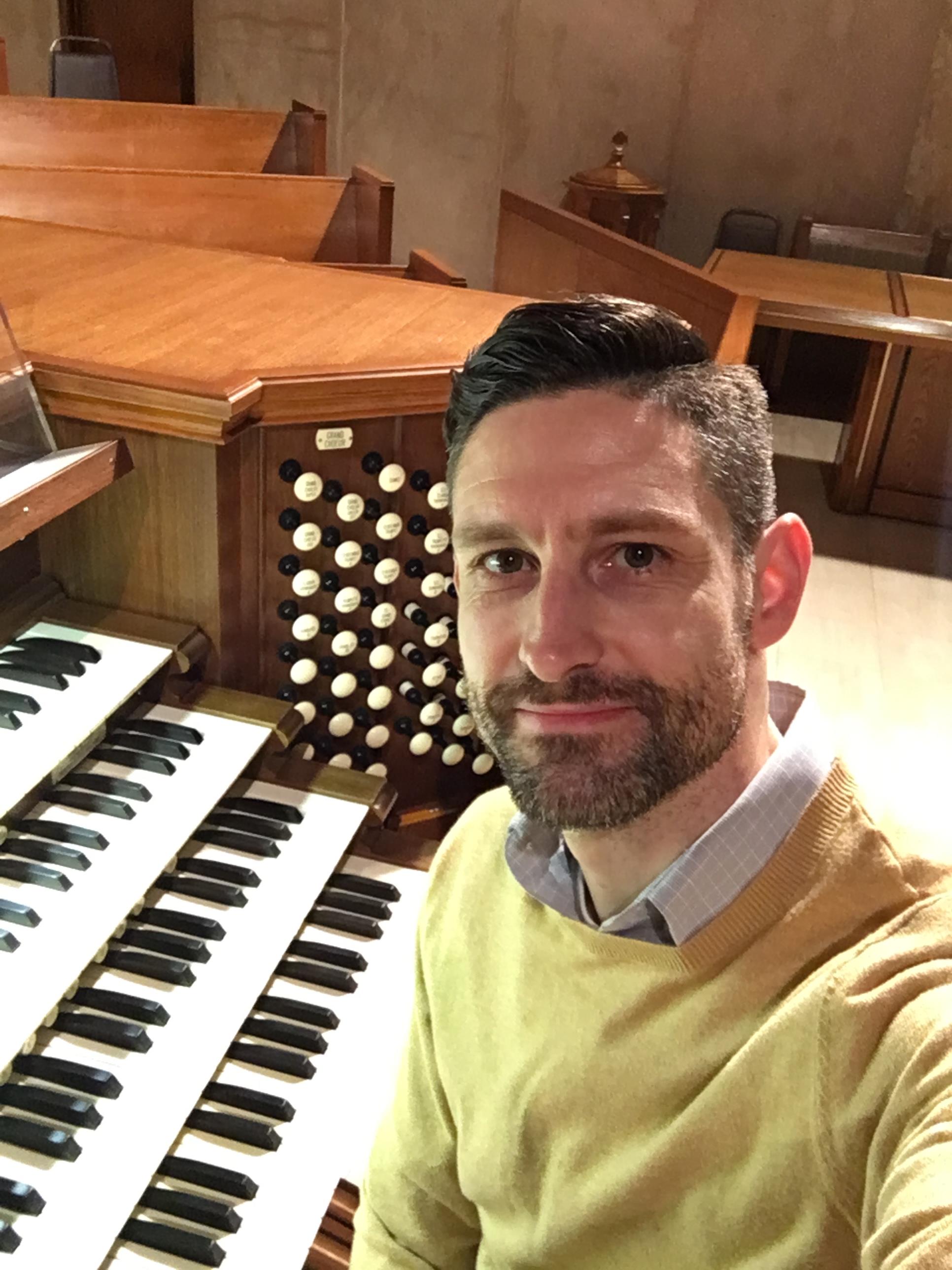 Sean Coburn O'Neal was born and raised in Long Beach, CA. He began musical studies with the piano at age 10, and then with the organ at age 16. Sean has received various musical honors and awards from various musical organizations, most notably having been awarded the first place performance prize in two regional American Guild of Organists competitions: Arizona, 1995 and Hawaii, 1997.

Sean is a frequent recitalist, both locally and around the United States, having been featured at the national AGO convention in Denver, CO. (1998); has performed in other prestigious venues around the U.S. such as St. Mark's Episcopal Cathedral (Seattle, WA), Grace Episcopal Cathedral (San Francisco, CA), St. Mary's Catholic Cathedral (San Francisco, CA), First Congregational Church (Los Angeles, CA) and at the Cathedral of Our Lady of the Angeles (Los Angeles, CA). In June of 2000, Sean was featured on the national public radio program "Pipe Dreams" and, in September of 2001, was the featured soloist with the Long Beach Symphony in a performance of the "Organ Symphony" by Saint-Saens.

In addition to playing the organ, piano and choral conducting, Sean has been a pipe organ builder for nearly 20 years in the Southern California area, and is the owner of O'Neal Pipe Organ Service of Long Beach, CA. Sean is also currently the Director of Music & Organist/Choirmaster at Holy Trinity Episcopal Church in Covina, CA.