Sunday, October 09, 2022, 12:00 PM - 1:30 PM
The Trevor Project is the world's largest suicide prevention and crisis intervention organization for LGBTQ (lesbian, gay, bisexual, transgender, queer, and questioning) young people.We are excited to welcome a representative from the Trevor Project as they offer our church and community an Ally Training. This training is designed to create dialogue around being an adult ally for LGBTQ youth by informing participants about common terminology, the "coming out" process, and challenges at home, in school, and the community. The Trevor Project provides 24/7 crisis support services to LGBTQ+ young people, and this ally training can help us support the young people around us in practical and life-saving ways. Learn more at www.thetrevorproject.org


A simple lunch will be offered before the training, and we hope to have many people participate both from our multi-site church and as a resource to the broader San Diego community.
RSVP by Oct. 5, 2022 To make your reservation for lunch.
Welcome to join the FREE lecture even after the deadline to order lunch has passed

Cost: $15 for lunch (RSVP by 10/5)

Free Child care
About the Speaker: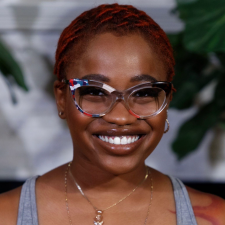 Penelope French (she/they) is the Public Training Manager at The Trevor Project, the world's largest suicide prevention and crisis intervention organization for LGBTQ youth. She travels the country providing life-saving and life-affirming training for youth serving professionals. In addition, Penelope educates corporations, municipalities, and organizations on LGBTQ competent suicide prevention, active allyship, interfaith relations, and creating inclusive, intersectional environments supportive of LGBTQ people. Penelope identifies as a Black Genderqueer Womanist Spiritualist Activist. She is a community organizer with The Movement For Black Lives and a space curator for the LGBTQIA community in Atlanta, GA where they reside. She has 15 years of experience facilitating on intersectional topics from Anti Blackness, political education, to Black Queer Feminism. She also served as a youth pastor for 12 years. She is committed to the full self expression, liberation, and healing of all creation. She received her Bachelors in Media Information from Michigan State University and her Masters of Religious Leadership from Candler School of Theology, Emory University with concentrations of interfaith and intersectionality. They have a dog named Stokely, and is a revolutionary soul singer and songwriter.