Wednesday, February 09, 2022, 12:10 PM - 1:00 PM
Come listen to our pipes!
This season's Midday Pipes organ series at First United Methodist Church of San Diego will be both in-person in the Sanctuary and online, live-streamed and available on YouTube.
All concerts will begin at 12:15 PM and can be accessed at fumcsd.org/watch-live or at First Church YouTube Channel on the second Wednesday of the month from September through June. We invite you to enjoy this beautiful organ music played by distinguished musicians on the 108-rank, 4-manual Blackinton & Associates pipe organ, the largest in San Diego County. The series is sponsored by the First Church Cultural Events Committee, and each performance will be approximately 45 minutes long.
Second Wednesday of the month (through 6/8, 2022)
12:15 - 1 PM
Join us at first church or watch live here
Each month you'll have a chance to listen to a different organist play a 45-minute free organ concert. If you missed a concert, you can listen to past concerts here
Each month you'll have a chance to listen to a different organist play a 45-minute free organ concert.
February 9, 2022
Alison Luedecke
Organist & Artist Teacher of Organ and Harpsichord, University of Redlands
Prelude and Fugue in Eb, BWV 552 J. S. Bach (1685-1750)
Tribute to Black History Month:
Adoration Florence Price (1887-1953)
Oh, Freedom Adolphus Hailstork (b. 1941)
Variations on "Outbursts of Spring Triumphant" Mary Beth Bennett (b.1954)
(A Theme of Ludwig Diehn)
i.Intrada
ii.Ostinato
iii. Celestes
iv. Aria
v. Interlude
vi. Toccata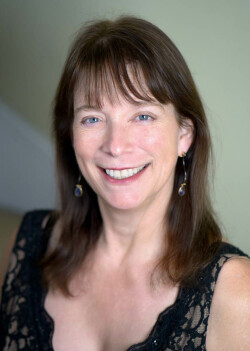 Alison Luedecke, organ and harpsichord, is a native of Galveston, Texas. She is passionate about sharing her love of music with her students, audience members and anyone who will listen! Dr. Luedecke is University Organist and Artist Teacher of Organ and Harpsichord at the University of Redlands. She performs with the Mainly Mozart Festival Orchestra, the San Diego Symphony and other large ensembles. She is a founding member and harpsichordist/organist with San Diego Baroque, presenting all-Baroque music on period style instruments, and a founding member and organist with Millennia Consort (Brass Quintet, percussion and organ), California's premiere "Organ Plus" ensemble. She is active as a solo concert organist and has played in France, Canada, Mexico and Germany. She received the Doctor of Musical Arts degree in Organ Performance at the Eastman School of Music as a student of David Craighead. She is currently Interim Organist at Holy Cross Lutheran Church, San Diego, CA.