Every Monday, from 02/15/2021 to 03/01/2021, 6:30 PM - 8:00 PM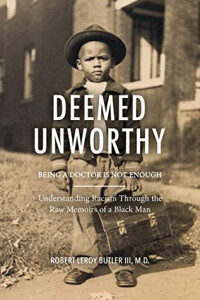 When the color of your skin is the only thing society sees, even being a doctor is not enough. In this compelling book, Dr. Robert Butler shares his experiences growing up Black in America. From his time as a young boy in the Bronx – up until present day – Dr. Butler has experienced racism in all aspects of his life. The incidents will shock you, but his resilience will inspire you! We have a long way to go when it comes to healing the divide, but Dr. Butler is living proof that with the support of a strong family and the determination to succeed no matter the barriers…we CAN achieve anything!
Join this Monday Evening Book Club on Zoom, led by William Stephenson Ph.D. It is suggested that you obtain the book Deemed Unworthy: Being a Doctor is Not Enough by Robert L. Butler prior to the class start.
Please RSVP to receive the Zoom link. Class size is limited to 12 participants.