Wednesday, November 13, 2019, 11:45 AM - 12:30 PM
Come listen to our pipes!
We invite you to take a 45-minute break in your busy day. Sit down, relax and enjoy the beautiful music played on
a 108-rank, 4-manual Blackinton and Associates Pipe Organ, the largest pipe organ in San Diego County.
SECOND WEDNESDAY OF THE MONTH
11:45 AM - 12:30 PM
FIRST CHURCH IN MISSION VALLEY
Each month you'll have a chance to listen to a different organist play a 45-minute free organ concert.
November 13, 2019
David Ball
Organist/Assistant Director of Music, Christ Cathedral, Garden Grove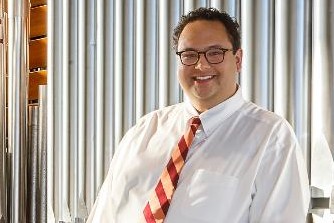 Juilliard-trained organist David Ball serves as Organist and Assistant Director of Music at Christ Cathedral in the Diocese of Orange, California (formerly Crystal Cathedral). David is a recognized and well lauded young performer—The New York Times declared his appearance in Juilliard's FOCUS! Festival "a rousing performance". His performances have been nationally broadcast on Pipedreams and WQXR-FM, and he was recently named one of The Diapason's 20 under 30, a peer-selected group of young people at the forefront of the organ field. David completed both the Bachelor and Master of Music at The Juilliard School in New York City, studying under Mr. Paul Jacobs. As a winner of the AGO/Quimby Regional Competition for Young Organists, David performed as a Rising Star at the 2016 National AGO Convention in Houston where he "used the organ evocatively... displayed a wide palette of colors in his artistic registration and... brought Mozart's K. 608 to a thrilling close, earning an enthusiastic response from the audience." (The American Organist) David has additionally won AGO competitions in Wichita, Denver, Kansas City and St. Louis, and was the recipient of the rarely conferred Outstanding Student Award from the St. Louis Chapter of the AGO. As Christ Cathedral organist, David's musical contributions underpin the Cathedral's vast array of weekly services and events, accompanying the Diocesan, Cathedral and Children's Choirs and supporting the parish's diverse congregation.