Saturday, November 04, 2017, 9:00 AM - 12:30 PM
Learn the history of First Church
Since 1869, First Church has worshipped in and served San Diego. The downtown historical walking tour will begin and end at the current church location in Mission Valley, with transportation via the church bus.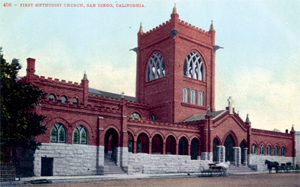 The walking tour portion is approximately 2-3 miles and will be at a moderate pace. First Church's history will be told with historical photos and stories while visiting the physical locations where First Church has worshiped in downtown from 1869 until 1964. The tour is outdoors and will occur (light) rain or shine.

To prepare for this tour...
Check the weather forecast, dress appropriately, and wear comfortable walking shoes. A hat and/or sunscreen is suggested. There will be a brief snack/coffee break halfway through the tour. Please bring your own form of payment for snacks. Tour content is geared for adults. Children ages 10 and up are welcome with parents/guardians.
The tour is limited to 15 participants. Last day to sign up is November 3.
Cost/person: $15
Cost/couple: (when purchased at same time) $20
I hope you will be able to join us!
Blessings, Krista Ames-Cook, Church Historian
Note: If the event is full when you try to sign up, please email Krista at to be placed on a waiting list for future tour dates.

Reviews from previous tours

"Great tour! Wonderful to see the 6 locations around the city of San Diego. To see and hear the history of San Diego's first protestant church, and to follow the growth of our church over the 150-year history."

"FUMC's History, Just a Closer Walk with Thee."

"I am a relative newcomer to FUMCSD, but I felt like a part of the historic community of faith even more as a result of participating on this informative and exceptionally enjoyable walking tour."

"It is exciting to realize how much the Methodists have played a role in the growth and development of San Diego."