Every Tuesday, from 04/26/2022 to 11/15/2022, 4:00 PM - 5:15 PM
Join us for Disciple Bible Study, Fast Track, Bible study for busy lives!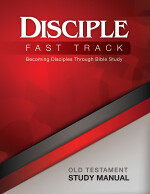 An adaptation of the original, bestselling Disciple Bible Study, this class will provide a viable option for busy people seeking comprehensive engagement over time with the entire biblical text. Fast Track groups meet for a total of 24 weeks, devoting 12 weeks each to the Old Testament and the New Testament. Participants read a manageable 3-5 chapters of the Bible daily in preparation for the weekly meetings, which last approximately 75 minutes.
To participate please purchase the two study manuals - Old Testament and New Testament, $15-17 per book, and available online. We will meet primarily via Zoom, although there will be 3 in-person opportunities to gather at the beginning, middle, and end of the study. Find the literature online here
Schedule: Tuesdays from 4-5:15 PM
Old Testament:
4/26 - In person, OB Campus, Community Room
5/3 - 7/5, Zoom
7/12 - In person, MV Campus (room location tbd)


SUMMER BREAK: 7/19 - 8/23


New Testament:
8/30-11/8, Zoom
11/15 - In person, OB Campus, Community Room
RSVP by 4/25