Wednesday, November 09, 2022, 12:15 PM - 1:00 PM
Come Listen to Our Pipes!
This season's Midday Pipes organ series at First United Methodist Church of San Diego will be both in-person in the Sanctuary and online, live-streamed and available on YouTube.
All concerts will begin at 12:15 PM and can be accessed at fumcsd.org/watch-live or at First Church YouTube Channel on the second Wednesday of the month from September through June. We invite you to enjoy this beautiful organ music played by distinguished musicians on the 107-rank, 4-manual Blackinton & Associates pipe organ, the largest in San Diego County. The series is sponsored by the First Church Cultural Events Committee, and each performance will be approximately 45 minutes long.
SECOND WEDNESDAY OF THE MONTH (9/14, 2022 - 6/14, 2023)
12:15 - 1 PM
JOIN US AT FIRST CHURCH OR
WATCH LIVE HERE
Each month you'll have a chance to listen to a different organist play a 45-minute free organ concert. If you missed a concert, you can listen to past concerts HERE
November 9, 2022
Michael Lawrence - Organist
La Mesa United Methodist Church presents:
Trumpet Tune in B-flat…..Michael Lawrence (b. 1978)
Largo from the New World Symphony…..Antonin Dvorak (1841-1904) (arr. S. Drummond Wolff)
Grand Dialogue in C…..Louis Marchand (1669-1732)
Master Tallis's Testament from Six Pieces for Organ…..Herbert Howells (1892-1983)
Praeludium in D…..Dietrich Buxtehude (1637-1707)
In Paradisum from Three Pieces for Organ…..Calvin Hampton (1938-1984)
Paean…..Kenneth Leighton (1929-1988)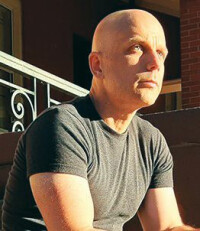 Michael Lawrence is a composer, keyboardist, and field recordist. A recent transplant to San Diego from Philadelphia, he has been playing at La Mesa First UMC since September 2021, and St. Joseph Cathedral since January 2022. He has performed as organ accompanist for the Westminster Choir and Pacific Coast Chorale at First Presbyterian Church of San Diego, as well as with the combined wind ensembles of Cuyamaca College and Point Loma Nazarene University in David Maslanka's Fourth Symphony. As a composer he has been published by The Organist's Companion (Wayne Leupold Editions), among others. From 2009-2021, he was an Assistant Grand Court Organist on the Wanamaker Organ, one of the world's most famous musical instruments, and in 2018 he represented Philadelphia for 60 Minute Cities, a project with Bivouac Recording of Shanghai, China featuring field recording albums from cities around the world. An avid practitioner of improvisation, he has also released works as an independent artist that span classical, electronic, and experimental styles, including musique concrète. His music has been featured on Syntheclectico on WHYR in Baton Rouge, LA, as well as WXPN's Star's End Radio in Philadelphia, in addition to San Diego's Listen Local podcast. His work can be found at michaellawrencesound.com.