Wednesday, October 12, 2022, 12:15 PM - 1:00 PM
Come Listen to Our Pipes!
This season's Midday Pipes organ series at First United Methodist Church of San Diego will be both in-person in the Sanctuary and online, live-streamed and available on YouTube.
All concerts will begin at 12:15 PM and can be accessed at fumcsd.org/watch-live or at First Church YouTube Channel on the second Wednesday of the month from September through June. We invite you to enjoy this beautiful organ music played by distinguished musicians on the 107-rank, 4-manual Blackinton & Associates pipe organ, the largest in San Diego County. The series is sponsored by the First Church Cultural Events Committee, and each performance will be approximately 45 minutes long.
SECOND WEDNESDAY OF THE MONTH (9/14, 2022 - 6/14, 2023)
12:15 - 1 PM
JOIN US AT FIRST CHURCH OR
WATCH LIVE HERE
Each month you'll have a chance to listen to a different organist play a 45-minute free organ concert. If you missed a concert, you can listen to past concerts HERE
October 12, 2022
Hans Hielscher - Organist
Organist & Carillonneur, Marktkirche, Wiesbaden, Germany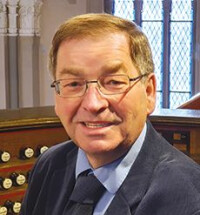 Hans U. Hielscher has been organist at the Marktkirche in Wiesbaden (Lutheran Cathedral of Nassau), Germany, since 1979. His studies were at the Detmold State Academy of Music and in Paris/Rouen, France. He also studied carillon at The Nederlandse Beiaardschool in Amersfoort, The Netherlands. Hans has presented more than 3.800 organ recitals around the globe; his concert tours have taken him to all European countries, the United States (71 U.S. tours), Bahamas, Israel, Iceland, South Africa, Australia, New Zealand, Japan, Hong Kong, Singapore and Bangkok. He has been featured on radio and TV broadcasts, 22 CD recordings on the Motette, Wergo, IFO, Lade labels and is the author of the books "Alexandre Guilmant - Life and Work", "Famous Organs in the U.S.A.", "The Organ of Wiesbaden Marktkirche". He is a published composer of some 50 works for organ. Hans has been honored by the French government in Paris for his worldwide engagement in French organ music and nominated "Chevalier de l'Ordre des Arts et des Lettres" in 1985. He is a long-time member of the AGO (American Guild of Organists), OHS (Organ Historical Society), GCNA (Guild of Carillonneurs in North America) and has presented workshops at various AGO National Conventions in recent years.