Every Sunday, from 01/10/2021 to 02/07/2021, 12:30 PM - 2:00 PM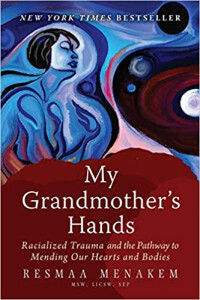 The year 2020 may forever be remembered as a Year of Change. As followers of Christ, many of our long held convictions may have been challenged in one way or another. First Church responded to that challenge in May of 2020 with not just a message on the "billboard" of an AntiRacism Stance, but a pledge to do better as a church. We started with several book studies in the summer and continued by creating our Racial Justice Endowment in the fall. We promise to keep that momentum going into the New Year with My Grandmother's Hands. This book invites the reader to take a deeper dive into years of hurt, pain and prejudice through the lens of the Black Body, the White Body and the "Blue" Body. Join Jason Tucker and Kenton Reaves Hundley for a 5-week book study of My Grandmother's Hands - Racialized Trauma and the Pathway to Mending Our Hearts and Bodies by Resmaa Menakem.
RSVP by January 7
This study is limited to 12 participants
Please make sure to have purchased or borrowed the book before the beginning of the class. We've included a link to the book on Amazon but please also consider purchasing from a local or Black-owned bookseller. The Zoom link will be shared after registration has closed.