Wednesday, May 12, 2021, 12:15 PM - 1:00 PM
This season's Midday Pipes organ series at First United Methodist Church of San Diego will be live-streamed and available on YouTube, due to Covid-19 restrictions imposed on in-person concert gatherings.
All concerts will begin at 12:15 PM and can be accessed at First Church YouTube Channel on the second Wednesday of the month from September through June. We invite you to enjoy this beautiful organ music played by distinguished musicians on the 108-rank, 4-manual Blackinton & Associates pipe organ, the largest in San Diego County. Each performance will be approximately 45 minutes long.
Wednesday, May 12, 2021
12:15 - 1 PM
WATCH LIVE HERE
Each month you'll have a chance to listen to a different organist play a 45-minute free organ concert.
Wednesday, May 12, 2021:
Charles Raasch
Assistant Organist, St. John's Lutheran Church, Orange

Program:
Prelude and Fugue in G Major, BWV 541 J. S. Bach (1685-1750)
Prelude and Fugue in G major by J.S. Bach: This is likely a later organ work of Bach, of which there are few. Most of his well-known organ works are from early part of his career, written before moving to Leipzig. This prelude and fugue has many Italian concerto influences, and I find it one of the most joyful works Bach is known to have written.
Suite (2020) Tom Mueller (b. 1985)
I. Chorale and Variations
Chorale - Grave
Var I - Andante
Var II - Allegro Scherzo
Var III - Allegretto
Var IV - Canon in Regrograde, Lento
Var V - Canon in Inversion, Allegro
II. Song
III. Toccata
Suite by Tom Mueller: My friend and colleague Dr. Tom Mueller is Assistant Professor and Chapel Organist at Concordia University, Irvine. He is a very intelligent, thoughtful and thorough composer. His harmonic language is fresh while being accessible. This Suite is a new piece written in 2019 and 2020, with the bulk of it composed in the early days of the COVID pandemic in April 2020. The work was commissioned by Bill and Nancy Raabe in honor of Dr. Steven Wente.
The first movement is a set of variations based on an original chorale-like melody. Dr. Mueller, as I am, is a fan of J. S. Bach. I can see the influence of Dr. Mueller's study of Bach's work in canon in several of the movements, treating the melody in canon, inversion, and retrograde. The second movement "Song" introduces a soulful melody, with a middle section introducing new harmonic colors and countermelodies. The original melody returns with a harmonically ingenious reintroduction. The third movement, a brilliant "Toccata" reworks various melodic and rhythmic motives from the first two movements.
Suite, Op. 5 Maurice Duruflé (1902-1986)
I. Prélude
II. Sicilienne
III. Toccata
Suite, Op. 5 by Maurice Duruflé: Duruflé dedicated the three-movement Suite he composed in 1933 to Paul Dukas, his composition teacher. The Prélude is in E-flat minor, with a powerful crescendo and decrescendo emphasizing its somber key. The graceful Sicilienne shows many Impressionistic effects, and is a lovely dance for an organ's flute, reed, and string stops. The concluding Toccata is a tour-de-force for both composer and performer. Duruflé was never completely satisfied with it.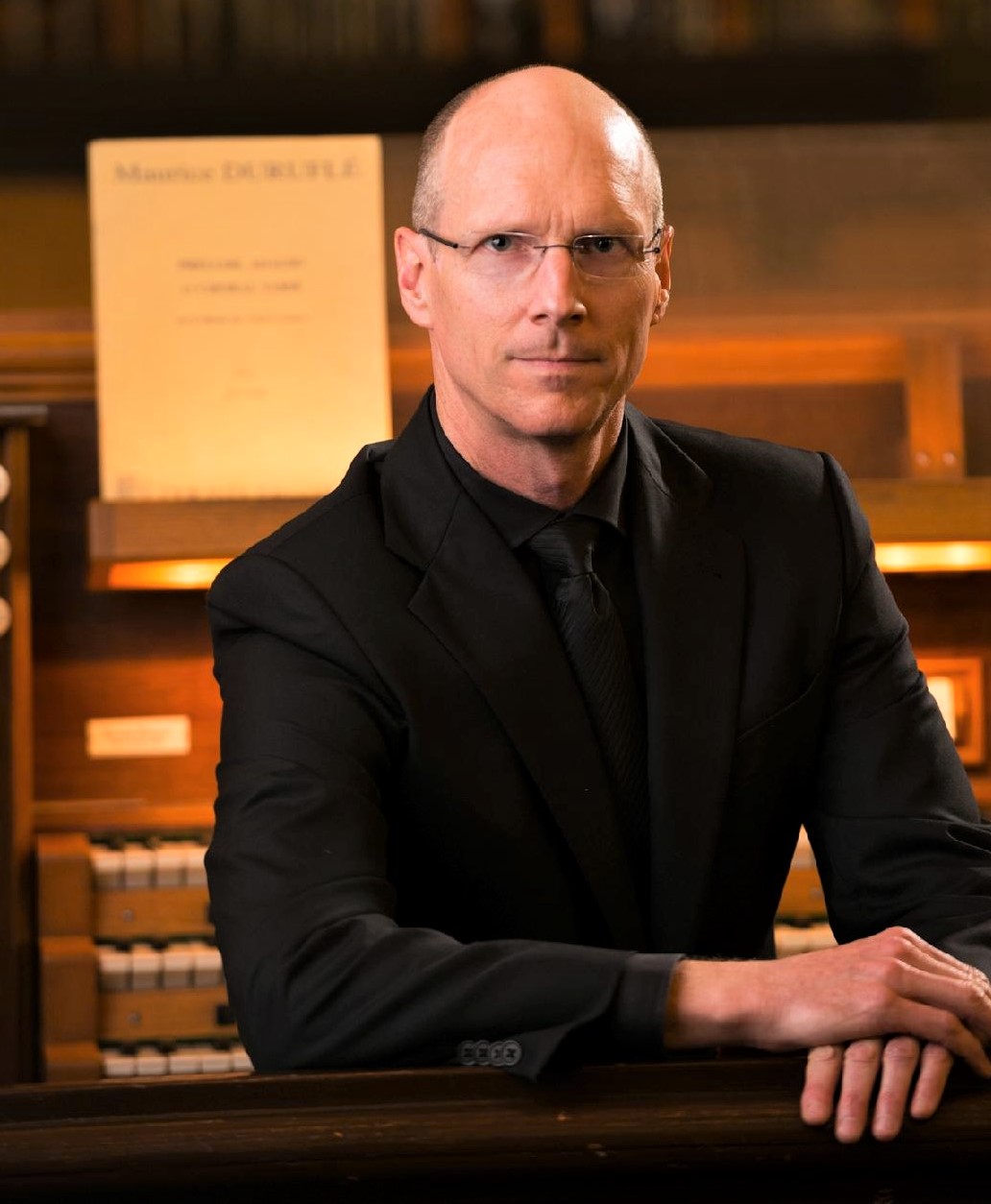 Charles Raasch is a longtime resident of Orange County. He has been active in music there for over thirty-five years. He has played for Lutheran, Catholic and Presbyterian churches over the years, and has substituted at churches and venues throughout the area. He is currently the organist for the St. John's Lutheran, Orange concert series, playing literature and composing new works which often find their debut at these concerts. He is also an active member and past Dean of the Orange County chapter of the American Guild of Organists. He has studied improvisation and composition with Michael Burkhardt and currently studies with Dr. Tom Mueller. Charles is an electrical engineer by trade, and in addition to a passion for playing organ music, is involved in developing hardware and software for digital and pipe/digital combination organs. He currently is employed as a VP of Engineering at Acacia Research in Irvine. He lives with his wife Leslie and dogs Scooby and Olive in Foothill Ranch, California.