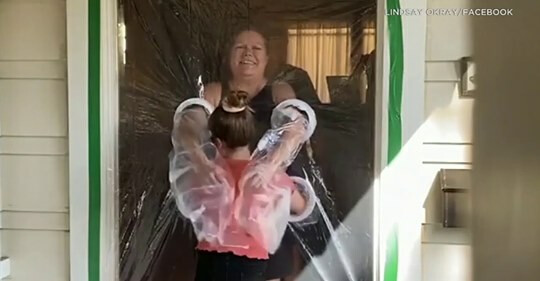 Creativity is the act of turning new and imaginative ideas into reality. Creativity is characterized by the ability to perceive the world in new ways, to find hidden patterns, to make connections between seemingly unrelated phenomena, and to generate solutions.
Creativity is all around us as we are developing new ways of being able to honor traditions and events that are important to us. Holding Services of Remembrance in the time of Covid-19. Providing opportunities for drive through pick up of communion elements and saying hello to the pastors from a safe distance.
Creativity is all around us as we honor our high school and college graduates. Communities are adopting high school seniors to let them know we care and this morning, CSU San Marcos hosted graduates on parade in their cars with a route lined by those who wanted to shout Congratulations in person.
Creativity is all around us as a parent made a plastic curtain with arms so her children's great grandparents could come by for a hug.
What creativity is around you?
By Linda Hawk, Controller and Business Manager