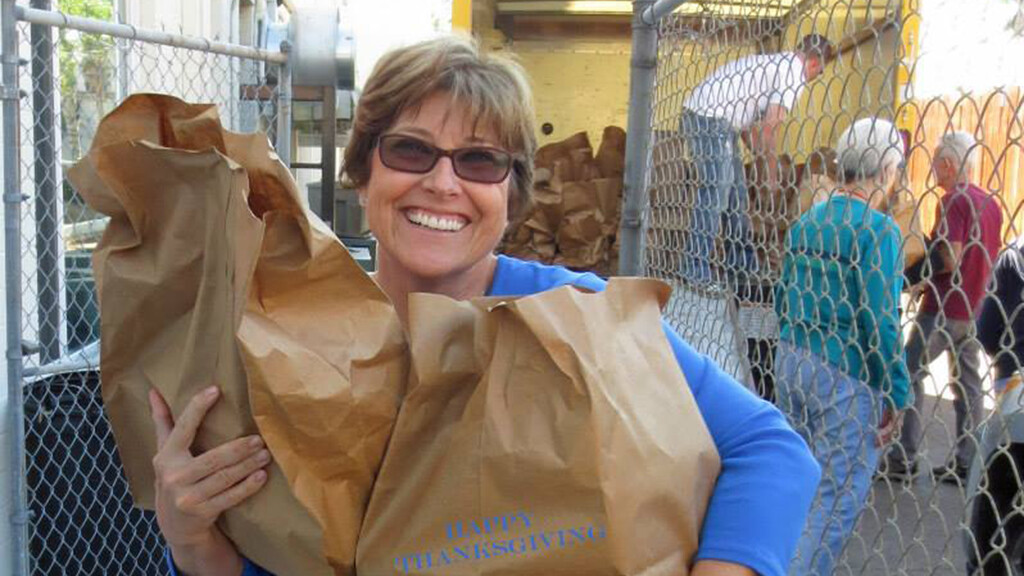 In this year of financial and pandemic uncertainties, you can help spread the Gospel while giving hungry families some "Thanksgiving gobble and cluck"
During these extraordinary circumstances, the traditional program is being revised both to meet current health and safety demands and to reflect the diversity and cultures of the recipients.
First Church is again partnering with Wesley UMC to distribute ingredients for a full Thanksgiving dinner to hungry San Diego families. We are asking you to prayerfully consider these options:
Donate to the "Special Gifts - Wesley Thanksgiving Fund", either by check or donate online (select "special gifts" and write "Wesley Thanksgiving Fund" in the memo line)
Shop for items on the list below and bring to First Church (see dates below) where they will be sorted and packaged for distribution at Wesley. If you select this option, please consider bringing your goods in new, reusable bags that can be used for distribution
Volunteer* to help sort, and package food bags for distribution on Monday, November 23
Drop off dates and times:
Sunday, Oct. 25 | 3:30 - 4:30 PM | Parking lot P2

If you have registered to take part in our in-person services on Sunday, Nov. 1 (11:30 AM or 1 PM) you may bring your donations and leave them at a designated spot outside the church.
Monday, Nov. 16 - Friday, Nov. 20 | 8 AM - 4 PM | Donation box in front of the church office
Sunday, Nov. 22 | 3:30 - 4:30 PM | Parking lot P2
Suggested donations of these non-perishable food items:
Printable PDF Shopping List
Please bring your donations in new, sturdy reusable bags.
Boxed dressing
Bag of rice (white or brown)
Canned produce: corn, tomatoes, carrots, peas, canned or dried mushrooms
Chicken broth (canned or boxed)
Bread/rolls or boxed bread/cornbread mix
Bag of dried beans
Boxed mashed potatoes
Cranberry sauce and/or canned fruit
Gravy mix (no glass jars, please)
Desserts: cake/cookies/brownies mixes
Bulk purchases are welcome (e.g., a case of canned tomatoes, 12 bags of rice)
If you are bringing your donation on November 22, please also consider bringing bags of potatoes
In additions to your donations, the Food Ministry of FUMCSD will purchase frozen chickens and fresh produce to add to each bag you donate.
Thank you for your support!
Food Ministry at First UMC, San Diego