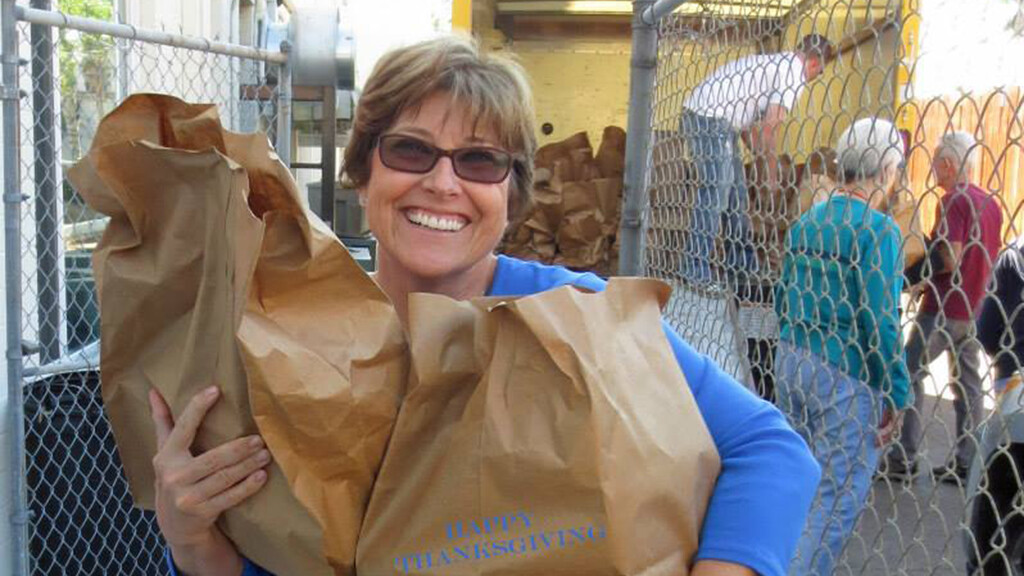 Thanksgiving is always a special time for everyone in this church and an especially generous time for our Food Ministry.
Check out the many ways you can help provide a Thanksgiving meal to our San Diego neighbors who are in need this holiday season.

Kids First & Students 1st CANNED FOOD DRIVE

COLLECTING OCTOBER 27 THROUGH NOVEMBER 17
Our children and youth are collecting non-perishable food items for Food Ministry. Consider picking one of these items up as you cruise the grocery store and bring it to the check-in tables on the plaza.
boxed stuffing mix
canned vegetables
canned fruits
cranberry sauce
canned yams
gravy mix
boxed mashed potatoes
boxed dessert mix
Contact Kenton Hundley or call 619-297-4366, ext. 118 or Daniel Froman , or call 619-297-4366, ext. 140.
"Thanksgiving in a Bag" for Food Ministry
Collecting Sundays October 27, November 3, 10, 17, and 24 before 12:30 PM
Every year we give a turkey with a matching bag of groceries to over 400 families that are served throughout the year at our weekly food distribution at Wesley United Methodist Church.
We make it simple by providing you with brown shopping bags and an attached suggested shopping guide. Pick up your brown bag at these locations:
Church Office, anytime Sunday morning or during regular office hours
Sundays at the "Reaching Out with Love" table on the patio.
You may also donate cash, gift cards or checks, which would allow us to make bulk purchases.
Volunteers needed
Volunteers for Shopping
We are seeking volunteers to help purchase some of the Thanksgiving food items we will put in the bags. If you are available to help please contact Rev. Melissa Spence,
Volunteers for Packaging
Saturday, November 23 | 9 - 11 AM
Linder Hall Stage
Volunteers are needed to help process all returned bags and create additional bags from any other non-perishable goods we've received. Our goal is to create as many additional grocery bags as possible, so those who don't get a turkey will still get something for the holiday. If you are available to help please contact Rev. Melissa Spence,
MAMA'S KITCHEN FOOD DRIVE
Collecting: Sunday November 17, 24 and Wednesday, November 27
We are partnering with Congregation Beth Israel at the Thanksgiving Eve worship to collect food to benefit Mama's Kitchen, a support organization for those living with AIDS.
Look for drop-off barrels located:
• below the Sanctuary
• in Linder Lounge
Suggested food items:
Box of cereal
Small package of pancake mix
Instant oatmeal packets
24 oz bottle of cooking oil
16 oz jar of peanut butter
16 oz jar of jelly
Spaghetti sauce
Box of pasta
Packets of pasta dinners
Canned diced tomatoes
Canned soups
Canned chili
Canned beans
Macaroni and cheese
Canned tuna fish/salmon
SHOWERS OF BLESSINGS & BREAKFAST
Saturday, November 9, 7:30 - 11 AM
Volunteers from St Paul's Episcopal Cathedral will serve alongside volunteers from First United Methodist Church to prepare and serve a simple morning meal for hungry individuals living in and around the Balboa Park area. If you are available to help serve a simple breakfast on Saturday, November 9, please contact Rev. Melissa Spence, or call 619-297-4366 ext. 120.
This ministry takes place the second Saturday of each month from 7:30-11 AM at St. Paul's Episcopal Cathedral.