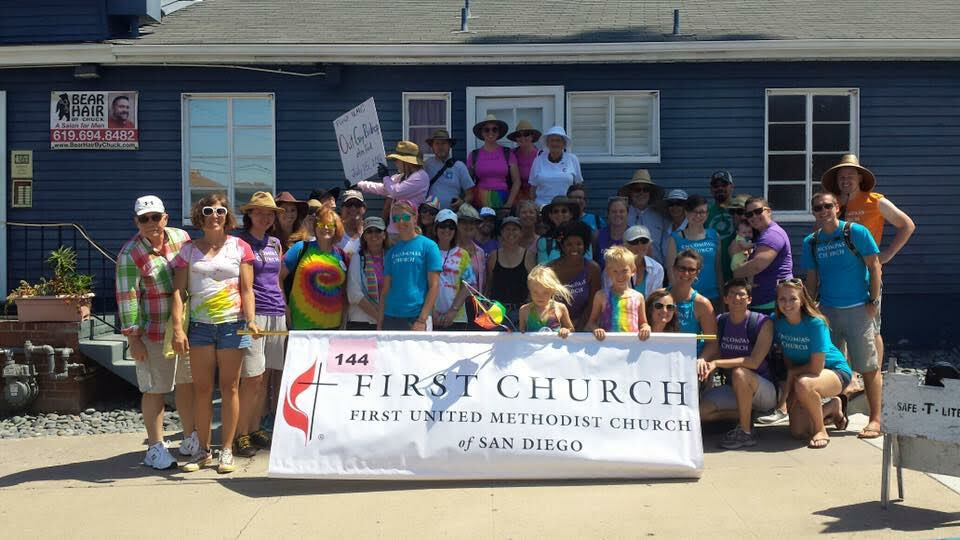 Reconciling Congregation Vote at June 2 Church Conference
For years the people of First United Methodist Church have prayerful considered what our witness should be in the area of human sexuality. Based on our Wesleyan commitment to proceed from the authority of scripture, reason, tradition and experience it is increasingly clear that we will welcome and accept all persons as fully a part of our fellowship. Our core denominational stance is that all are "persons of sacred worth." We have been leaders in programs like Strength for the Journey and All God's Children.
As we have studied, prayed, searched the scriptures, gotten to know one another as friends and fellow disciples and thought about God's grace and our witness in the world, it is clear that the time has come for us to declare ourselves as a reconciling congregation.
In light of the action taken by the Special Conference this last February, the Inclusion Task Force believes it is important for the congregation to re-affirm our commitment to LGBTQ+ persons, to assure that we recognize all people as children of God. To affirm that all means all.
As a step in making this affirmation, we believe it is time to officially become a Reconciling Congregation. The Reconciling Ministries Network is a Christian and United Methodist organization. A Reconciling Congregation offers welcome to LGBTQ+ people in particular, because this is the only group that is expressly made to feel unwelcome within the UMC. When a United Methodist congregation wants lay LGBTQ+ people to feel welcome, they need to say it out loud; it needs to come from the laity, the people. That's US.
Many UM congregations have chosen to affirm themselves as Reconciling Congregations, including our Ocean Beach chapter. It is time for us in Mission Valley to do the same – to make the same choice as a community. We want our entire congregation [Ocean Beach and Mission Valley] to be united in this.
To accomplish this, we will need to take a vote at our next Church Conference on June 2. Last year, we voted to welcome LGBTQ+ people, to sanctify same sex marriages, and to support LGBTQ+ persons for the clergy. The process for the voting was not the best, but there was an outreach to all attendees and every vote was counted. This year, we will assure that the process is transparent. We did not come to last year's vote without preparation. You may remember that there were several opportunities for education and discussion during the years leading up to that vote. The final vote was 79% in favor.
You may be asking why we need another vote, another step. By becoming a Reconciling Congregation we make our stand more public, more firm, more meaningful. Please prayerfully consider your response and vote at the June 2 meeting.
For more information see below.
Reconciling Ministries Network FAQs

Reconciling Ministries Network is a Christian and United Methodist organization. Its work is guided by the following core principles:

Spiritually Grounded
Reconciling Ministries Network (RMN) is committed to the justice imperative of the Gospel and grounding its ministries in the Wesleyan practice of personal and social holiness. RMN is committed to utilizing inclusive language and respectfully recognizing the diverse approaches to scripture, tradition, reason, and experience of the congregations and communities with whom it relates.

Reconciliation
Reconciling Ministries Network is committed to reconciliation that leads to the healing and transformation of animosity into a loving relationship amongst all God's children. Authentic reconciliation requires peace with justice.

Overcoming Oppression
Reconciling Ministries Network aspires to fulfill our baptismal covenant to resist oppression in whatever form it presents itself in our movement, church, and world. RMN has a commitment to ending institutional racism, sexism, and economic injustice by working at the intersections of oppression and focusing on an ongoing examination of internal processes and external actions at all levels including its selection of issues and organizing strategies.

Integrating Sexuality with Spirituality
Reconciling Ministries Network believes that human sexuality is a good gift given by God. RMN is committed to supporting the integration of healthy, loving expressions of sexuality and spirituality for everyone. In particular, since the Church so often has sought to deny their full humanity, we celebrate the sexuality and spirituality of LGBTQ+ persons and pledge to provide resources that lead to a deeper understanding of God's precious gift.

Relationships
Reconciling Ministries Network acts in hospitality across theological divides and is committed to the creation of community, interconnectedness, and deep relationships.

Systems Change
Reconciling Ministries Network is committed to policy change and the creation of long-term solutions and practices that create full inclusion in The United Methodist Church and our broader society. RMN works for full equality in membership, ordination, and marriage for God's lesbian, gay, bisexual, and transgender children.

Stewardship
Reconciling Ministries Network is committed to the stewardship of its organizational resources—the people, time, talent, and treasures—that God provides for transformation of our church and world.

Organizational Authenticity
Reconciling Ministries Network is committed to operating in a way that mirrors the change we hope to create in the world. Towards that end, we commit to honesty, integrity, excellence, equality, justice, dignity, civility, diversity, inclusion, and creativity. This includes continuous soul searching in all organizational practices and the provision of ongoing continuing education to all staff and board members to enhance skills and develop growth.