The Masterwork Chorale – 50 Years of Singing at First Church
The First Church-based Masterwork Chorale is a community choir of approximately 110 singers which combines with the Chancel Choir each season to perform two major choral works, for Advent and in the spring. Celebrating its 50th anniversary on November 3 of this year, the group was founded by retired FUMC Music Director Robert Cooper in 1969 and has continued under the leadership of Stanley Wicks who succeeded Bob in 1998.
As a choral music teacher at Hoover High School, Bob Cooper formed a group of student singers and their parents to premiere Ralph Vaughan Williams' A Sea Symphony, with orchestra, to commemorate San Diego's 200th anniversary in 1969, a performance in Hoover's gymnasium that was attended by the mayor and the various other city and military officials. This endeavor was such a success that Bob continued the student/parent "Hoover Masterwork Chorale," performing major choral works both at the school and then at Christ Lutheran Church where he was then music director.
In 1972, by the time Bob became Music Director at First Church, he had left Hoover but brought with him what is now the Masterwork Chorale of community adult singers. In the spring of 2010, its musical ranks were bolstered by the addition of members of the Pacific Academy of Ecclesiastical Music (PACEM). Through the last 50 years here, under Bob's and then Stan's direction, the chorale, in collaboration with the church's Chancel Choir, has provided performances of over 150 choral "masterworks" for the congregation and the community-at-large. As the Masterwork Chorale looks forward to the Advent concert on December 8 and next spring's German Requiem by Johannes Brahms, we singers are proud of and grateful for our unique choral community, the musical fellowship we enjoy and the support we receive from the church and from our audiences.
Katie Englund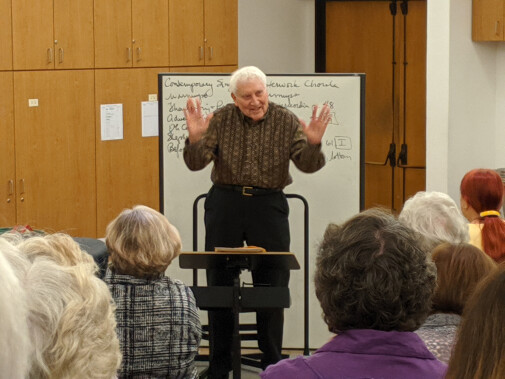 Robert Cooper, MWC's first Director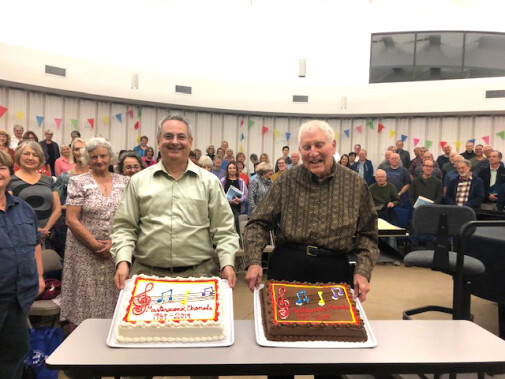 The two directors Stan Wicks and Robert Cooper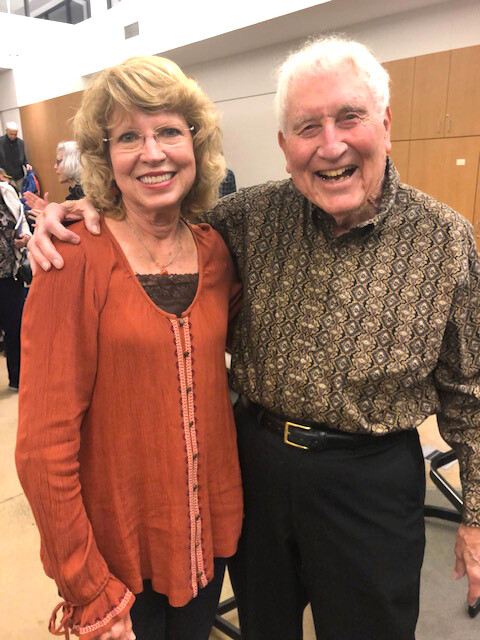 Anita Shaw, high school singer when Robert Cooper was at Hoover High School, is pictured with Robert.