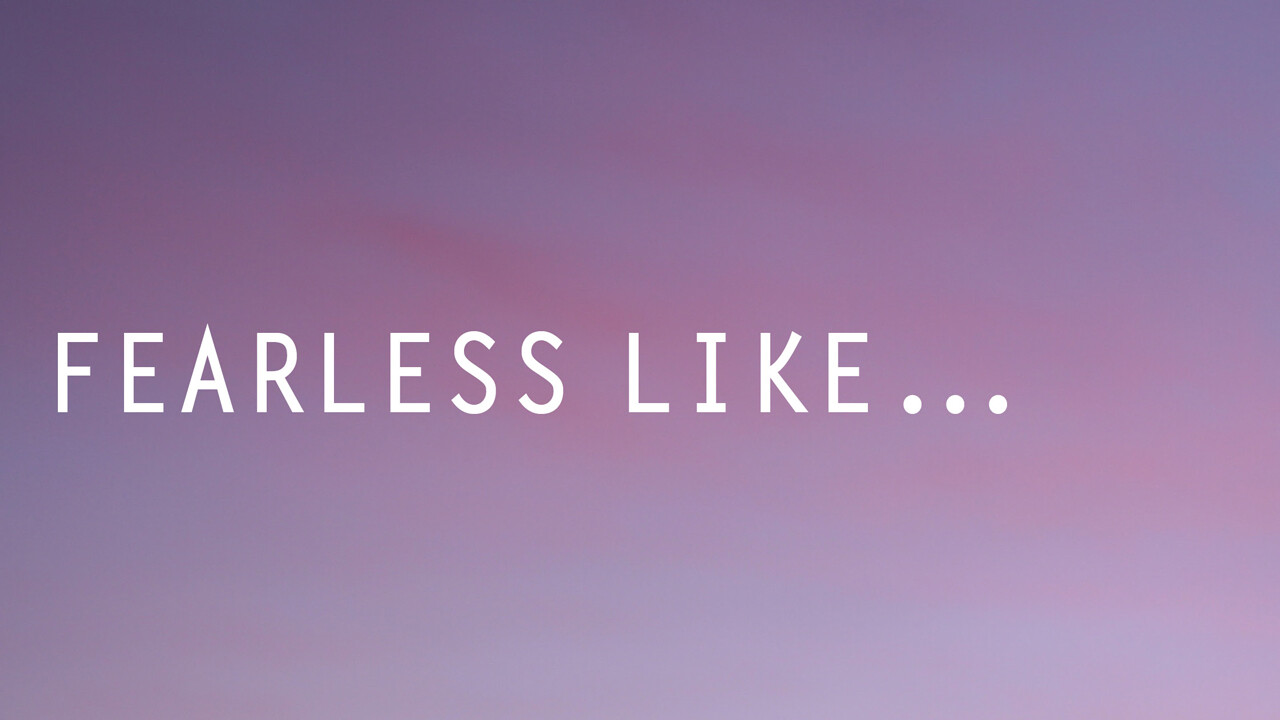 Fearless Like Christ
My friend was sick. I had accidentally run into his brother, David, at the University Bookstore and asked about Joshua because I had not seen him in a while. "He's at Mesa Vista Hospital," David concluded.
When I saw my sister Veronica, I told her what David said. "Oh, what's wrong with him?" she inquired. "I'm not sure," I answered. "You know what kind of hospital that is?" my sister asked me. "No. What kind is it?" I responded. "It's a mental hospital," she retorted, "Does your friend have 'mental problems"? I was dumbfounded.
Joshua was one of the smartest, and nicest people I had ever met. He was charismatic with a wonderful sense of humor. Now, I learn that he was in a mental hospital. That is too bad, I surmised, it was a good friendship while it lasted, I thought to myself. In other words, I was going to end my friendship with him because he was in a mental hospital. I went about my day as I usually, getting all of my errands completed.
At the end of my day, a wee-small voice within me spoke to me, "Are you being judgmental towards Joshua? If so, then you were not much of a friend to begin with, were you?" Was I being judgmental? Now, I had begun to examine, just what is a true friend? I knew that Jesus is my friend. He tells me in His Word: "…I will never leave you nor forsake you" (Hebrews 13:5). My friend Joshua was in need of a good friend. God's Word also tells me, "…whatever you wish that others would do to you, do also to them…" (Matthew 7:12). This was truly a situation where I needed to be Christ-like.
If the situation was reversed and I were in Josh's shoes, I would not like it if someone who had called me their friend deserted me because I had been admitted to a mental hospital. Was I going to allow the sigma and prejudice of mental illness to affect me? I had heard people call places like Mesa Vista, "the nut hut," or "loony-bin". I could recall people saying things like "crazy-person," or "psycho," or "have a loose screw," for anyone in a mental hospital. "Will he EVER get better? Does this mean that he is a weak person?" These were just a couple of the questions, I pondered. I had never known anyone diagnosed with a mental issue. Uncertainty brings fear and most people do not like being in the darkness, and in this situation, I was one of them. This was new, scary terrain for me to walk. I had not been to a mental hospital before. However, that still small voice within me gently whispered, "Fear not." I knew in an instant that the Holy Spirit was guiding me in with my decision.
At that moment, I decided to go visit Joshua. I chose to be a true friend instead of a fake one. I had visited other friends in the hospital for other reasons. Joshua was in the hospital now although this time, his illness was in his mind.
When I arrived at Mesa Vista Psychiatric Hospital, Joshua was happy to see me. He said that aside from his brother, I was the first and only person to visit him. "Thank you for visiting me," he kept saying, over and over again. I heard the gratitude in his voice, and I also heard his shame. Josh explained that he had been diagnosed as bipolar and had recently experienced some "manic episodes." At the end of our visit, Joshua asked if I would be willing to bring him back some clean clothes and his shaving razor. The next day, upon my return to the hospital with the requested items in tow, I also met Joshua's parents. They had just arrived in town from Los Angeles. They thanked me as well for "being a friend to their son".
I would like to believe that by me being hopeful and choosing to visit Joshua, I give him hope, and his family as well. A special kind of hope that says to anyone experiencing a mental disorder, in spite of how a situation may seem there is a light at the end of the tunnel, and you are not alone. Family members and friends can have a big influence over anyone they know with a mental health disorder. Initially, I was afraid that I could not do anything to help a friend with a mental health disorder. But I could and I did. I remained Joshua's friend until the day he died, two years ago.
God does not want us to be judgmental, or prejudice of those who are identified with mental health issues. Mental health well-being is experienced in community, not in isolation. God wants us to encourage and build each other up (1 Thessalonians 5:11). Let us reach out in love to those who are experiencing mental health issues and let them know that we are available to help and that he/she is not alone.
Finally, never underestimate the Word of God coming as a still small voice, a voice of guidance, a voice of grace, a voice of love and mercy, representative of the free gift of salvation through Christ our Lord. I will never forget the day Joshua gave me the best complement soon after meeting his parents, he said, "You have the light of God on you." I asked him, "How do you know?" His response, "Because I can see it."
"…perfect love casts out fear…" (I John 4:18)
Prayer for those with Mental Health Concerns
"Forgiving God,
We confess that we have judged those who struggle with mental illness.
We have judged because we do not understand.
Forgive us for making assumptions. Forgive us for our indifference.
Lord, in your mercy, Hear our prayer." In Jesus' Name we pray. Amen.
(Prayer Taken From Website: April Yamasaki – writing and other acts of faith)
~Pamela Henson
Subscribe to the Daily Lenten Devotional