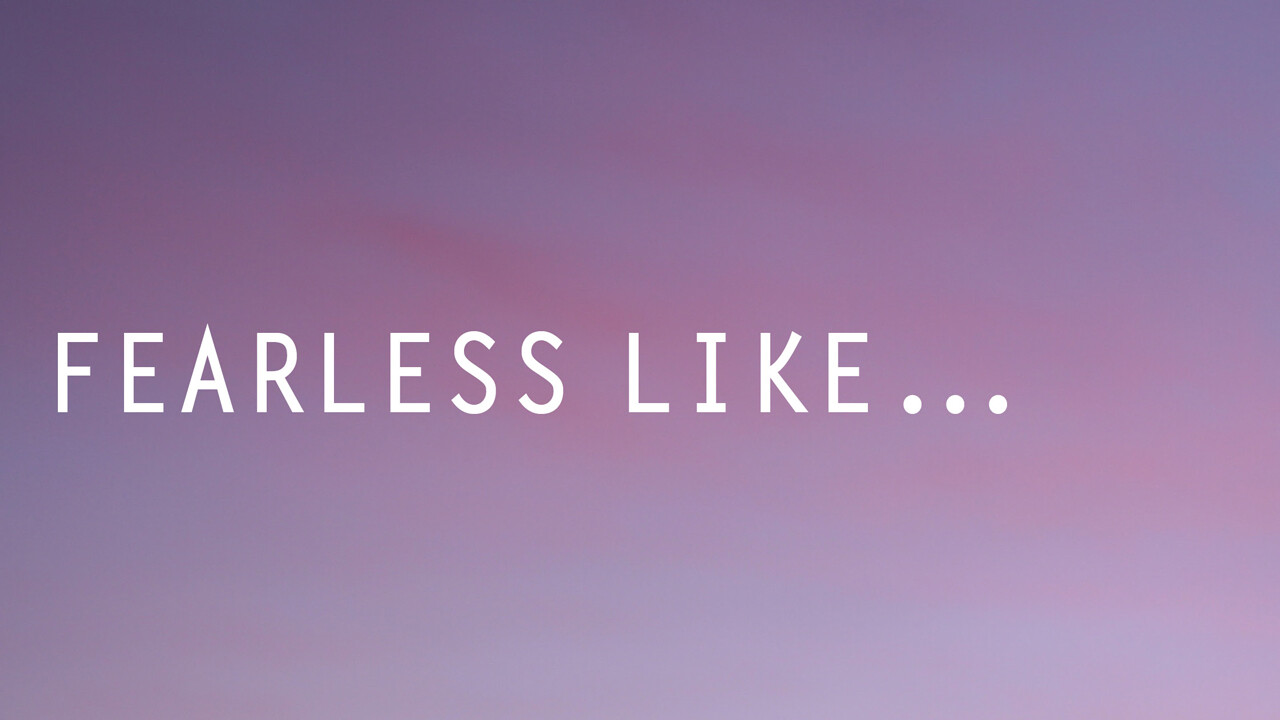 Fearless Like Ruth
Several years ago I spent some time in Dakar, Senegal, West Africa where I was visiting my son who was on assignment there. Of course I wanted to see the sights but even more I was eager to experience the culture and the people. So it was by thoughtful choice I found myself one day aboard a small ferryboat on its way to Goree: Senegal's Slave Island. Painful though I knew it would be for me to learn the history of this infamous place, I knew it was necessary for me to actually go there just as Ruth went where she was called to go so long ago. Goree served as the hub for all elements of the slave trade for centuries. It stands today as a grim testimony to one of the greatest tragedies in human history. I stepped out in faith asking God to help me calm my fears and to confront the truth head on. As I leaned against the rail of the little boat I could almost feel Goree Island coming closer and closer — and I must admit I was fearful of how I would deal with it.
Just then a movement sliding near my feet on the deck caught my eye. I was about to have an experience that will forever be etched in memory:
Beggar Man
What? What is this at my feet I see?
Are you human form? -- Oh, how can it be?
You slither, and slide and walk on your elbows and knees
Dark skin the color of earth, and hands all calloused and hurt
Head bowed low, shoulders hunched, and behind -- two withered limbs that fail to work
As you move from place to place, curiously I watch
Your robe - it's so tattered and torn
The turban you wear, obviously --- too many times worn
Now that you are near I see that you take form
A beggar man – that is clear – way out of the norm
Two dark eyes are deep in the pinched face you turn up to me
I cannot bear to meet your gaze
I know what you want and so I pretend you did not appear
You are ugly and unclean, although -- it's true, you are here
"What is this?" I ask as you persist
"Don't you know I am not one who easily pays?"
Why do you continue to look and to hold out one fingerless hand?
Instead you should sit or try to stand.
Go away old Beggar Man
My heart is guilty now, squeezing me tight,
Eyes still averted, and my head turned away
When, unbidden, new thoughts come to me about what's right.
How can I ignore you? Who are you anyway?
What has life to you brought – oh, poor man?
Were you pushed from the womb in such a state?
Or was it some accident of fate?
Have you been beaten and kicked and cast aside
A "Nothing" in a world of others hard and cruel
How many are those who say "It is YOU we cannot abide."
How do you live poor beggar man?
Are you my Lazaras at the gate?
Am I in fact the rich old fool, too closed, too cool, too calloused
To help you in your miserable state?
For you, is there anyone to care?
Where do you sleep at night and what crumbs do you accept?
Why are you here on this old boat sliding along decks and working the crowd?
"Cadeau?" Cadeau?"* you softly ask. What do you really expect?
Move on old Beggar Man.
I turn and walk away, "This I cannot do" I say
After all I came to see the wonders of West Afrique
You may be just an act; it's really not folks like you I seek
I must put you out of mind and only hope that you will others find.
Later on, and off the boat, I see you again along the pier
"Oh no", I think, as into clear view you crawl so near
Since first I saw you, visions of your condition have clung to me like blight .
So, why now so sudden, am I seeing you in a brand new light?
Like an arrow flying true to its mark, I feel your spirit communicate with me
In this brief moment your rags and disfigurements fade away.
A new warmth floods my hitherto cold heart , then flows on to prevent further delay.
With purpose I toss you some francs, and I see your face turn, now open with glee
And this gratitude touches me today.
Now I see you for what you have been all the while:
A full human being with a radiant smile
And quite deeply I feel it is YOU who has given ME the gift – a wonderful cadeau*
Your joy in my small acknowledgement remains for me a forever memory of you.
"Thank You, Thank You!
Bless You, Beggar Man
By: Patti Blakeslee
(From an experience on a ferry boat in Senegal, W. Africa)
_* cadeau: French word for "gift" -- a handout West African beggars ask for ---pronounced ka-doo'
I felt then that God was there in that encounter - not only did He help me change my heart but also to open my eyes and to know that His love reached in and directed me to take action. Yes! God IS there to help me be fearless when facing uncertainy, to know where I must go and to understand what I must do meet other people as MY people — just like Ruth did so long ago.
Mathew 25: 35; 45 / Ruth 1:16
Lord help me to respond without fear or dread to your direction for action. Help change my heart and enable me to go where I must go and be with other people in ways that You call me to be. Thank you Lord for your direction as I seek to be a follower of Jesus each and every day.
Subscribe to the Daily Lenten Devotional