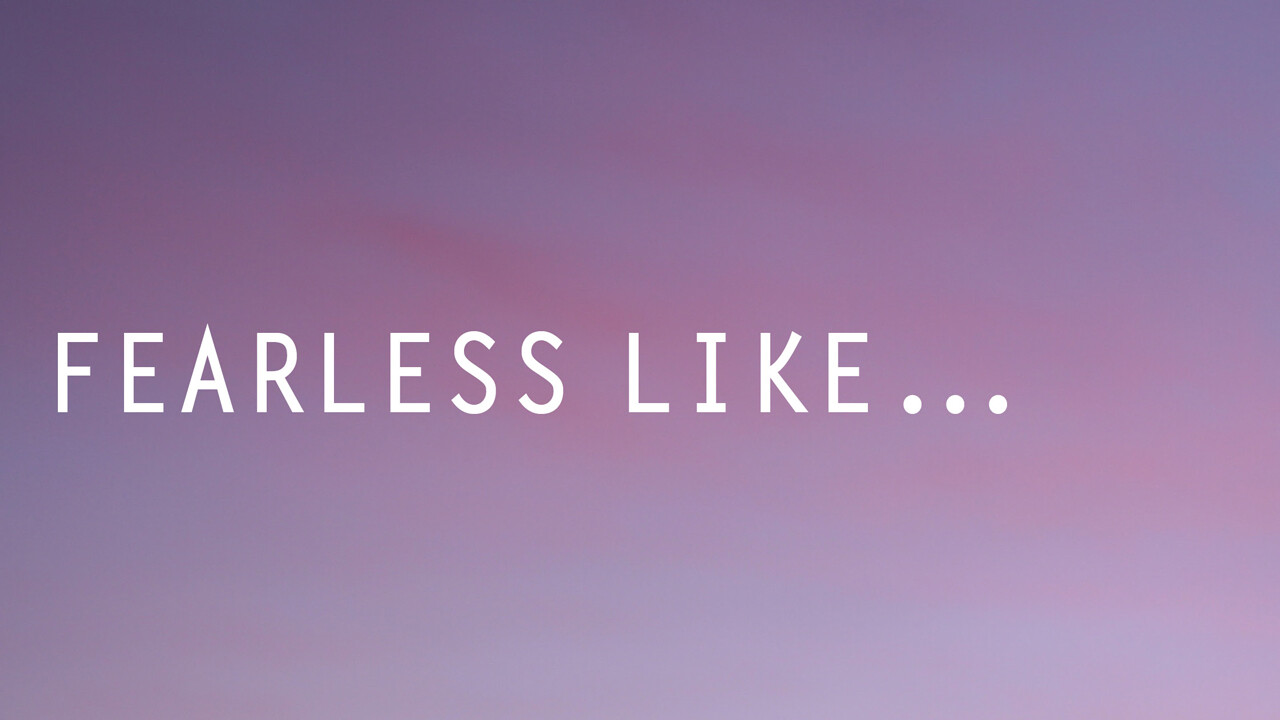 Fearless like Leah – Having the courage to be loved
Leah: a woman who found love
As humans, we love to take control of our worlds.  My girlfriends and I all like our lipsticks to be in a particular slot in our bags.  We like our children to have particular things packed in their lunches and their bedtime routines to be handled in a particular way.  I have one girlfriend who gets upset when someone in her family doesn't fold the bathroom towels in thirds!  The semblance of control makes us feel more secure; it is something we have been doing for centuries…
Jacob's first wife, Leah, was unloved.  Her father tricked Jacob into marrying her when Jacob really loved (of all people) her sister, Rachel.  Can you imagine being in this situation?  Sharing your husband with your younger sister, and your husband prefers her!  Well, Leah wasn't going to take all of this sitting down.  She decided to take matters into her own hands.
Leah's name comes from a word meaning "cow."  And so it begins…  Leah was the oldest, and it seems that she was not considered "the pretty one."  Genesis 29:17 says "Leah had weak eyes, but Rachel had a lovely figure and was beautiful."  Leah's eyes were weak or tender.  It is possible that she was partially blind or had an eye disease that disfigured her in some way.  Premium attractiveness and strength to bear children were important qualities in a wife, so it may be that Laban had a hard time finding a husband for a daughter with a physical impairment.  Rachel, on the other hand, had a lovely figure and was beautiful.  It seems she was strong too since she was shepherding her father's sheep!
Leah was

marginalized

her whole life
She was physically unattractive, and she did not have the respect of her family.  Leah had it rough. 
Since Leah's father had so little hope of Leah ever getting married, he manipulated and deceived Jacob into marrying her.  After Jacob had worked seven years to marry his first love, Rachel, he ended up in the marriage bed with Leah.
Is your question the same as mine?  How on earth could Jacob not have known he was with Leah in that tent instead of Rachel? I've heard preachers explain this by saying brides were heavily veiled and clothed at their weddings.  Umm… to consummate, don't the veils have to come off? If Jacob really did love Rachel, the woman he had spent seven years laboring to obtain, why didn't he realize this was not Rachel?  I believe he had over-imbibed at the wedding, but whatever the reason, the next morning, there was Leah.  Imagine the scene when Jacob realized whom he had slept with?  I imagine Jacob cringing in horror, grabbing his clothes and running from the tent to find Laban leaving Leah behind.  Consider how Leah felt, to experience the full brunt of her husband's disdain and rejection.
Well, instead of wallowing in self-pity, Leah decided to take control and earn Jacob's love.
Leah tried to

earn

love from Jacob.
What is the one thing that a woman can do during this era that would be certain to please even a polygamist husband?  Bear sons.  And sure enough, that is exactly what Leah did.  She had sons.  And her children's names are very indicative of her thoughts.  Genesis 29:32 says that Leah named her first son Reuben, "because the LORD has seen my misery.  Surely my husband will love me now."  Verse 33 says that her 2nd son was named Simeon "because the LORD heard that I am not loved."  And it continues … when Levi was born, Leah said, "Now at last my husband will become attached to me, because I have borne him three sons."  Oh Leah!  Does any of this ever happen?  Does Jacob begin to love Leah because she bore him so many sons?  No, he doesn't.  Jacob would never be a source of love to Leah.
And finally, Leah begins to see this.  Jacob would never look upon her with loving eyes and a gentle touch.  She begins to realize that Jacob would never fill that hole in her heart.  Her perception of reality is reoriented with the birth of her 4th son.  She named him "Judah" saying "This time I will praise the LORD."  Well done, Leah!  Set your eyes on God and experience the waterfall of love that he so wants to give you!
Leah found the

source

of true unconditional love in God
Leah spent many years competing with her sister for the love of their shared husband.  She always came out the loser in that battle.  But God is gracious.  With the Lord's help, Leah had the courage to separate herself and her self-worth from a desire for family approval.  She was able to simply rest in the arms of our loving God.  She found the peace of God which transcends all understanding; and at this point in her life, Leah was walking with God.
What about us?  Do we still try to take the reins in our lives, controlling situations and controlled by what people think of us?  Why do we do this??  Could it be that we don't entirely trust God to do what is right for us in our lives? We can say with our lips that God is Sovereign, but do we have the courage to allow him to be in control?  I wholeheartedly believe that our need for control stems from our lack of understanding of exactly how much God loves us.  Brothers and sisters, GOD LOVES YOU! 
Paul writes in Ephesians "And I pray that you, being rooted and established in love, may have power, together with all the saints, to grasp how wide and long and high and deep is the love of Christ, and to know this love that surpasses knowledge – that you may be filled to the measure of all the fullness of God (Eph. 3:17-19).  John writes in his first epistle, "And so we know and rely on the love God has for us.  God is love.  Whoever lives in love lives in God, and God in him" (1 John 4:16). 
Neither knowing God nor knowing ourselves can progress very far unless it begins with knowledge of how deeply we are loved by God.  Until we dare to believe that nothing can separate us from God's love – nothing that we could do or fail to do, nor anything that could be done by anyone else to us – we cannot let go.  We will be unable to allow God the access to our lives that we so need him to have.  Do you know what this requires?  It's the 'v' word… vulnerability.  Genuine transformation into Christ-likeness requires vulnerability.  It's not just the fact of being loved unconditionally that is life-changing.  It's the dicey experience of allowing myself to be loved unconditionally.  That takes courage. We need to let go of our dependence on outcomes… to know that God has a giddy, all-encompassing love for each one of his children.  Just as we wish our children would listen and surrender to our wisdom, God wants the same from us.  He loves us and wants the best from us.  If we would just stop thwarting him with our own ideas of what is important, then imagine the wonders God could do in and through us!
Leah did have the courage to let go, at least for a time.  She seems to go back to her old ways later.  Jealousy and inadequacy reared their ugly heads again when Leah saw her sister's servant, Bilhah, giving Jacob children.  So Leah again took control and gave Jacob her servant, Zilpah.  All of us are sinners saved by grace.  The important thing to remember when we take the reins and then fall off the horse is that God is always there to brush the dirt off, give us a peck on the forehead, pick us up and put us back on the horse.  Then it will be our decision whether we hold onto the reins ourselves, or whether we give those reins to God.  It is my prayer today that we can all look into the loving eyes of our Savior and have the courage to hand him the reins to our lives.
Father, in our pride, we try to control your creation. Forgive us for our lack of faith in you. Allow us to know of your love, not just in our minds, but help us to know and experience your love throughout our entire being. Through our knowledge of your love, we can rest in your loving arms and truly live in your kingdom.
Amen.
Amy Moberly
Subscribe to the Daily Lenten Devotional