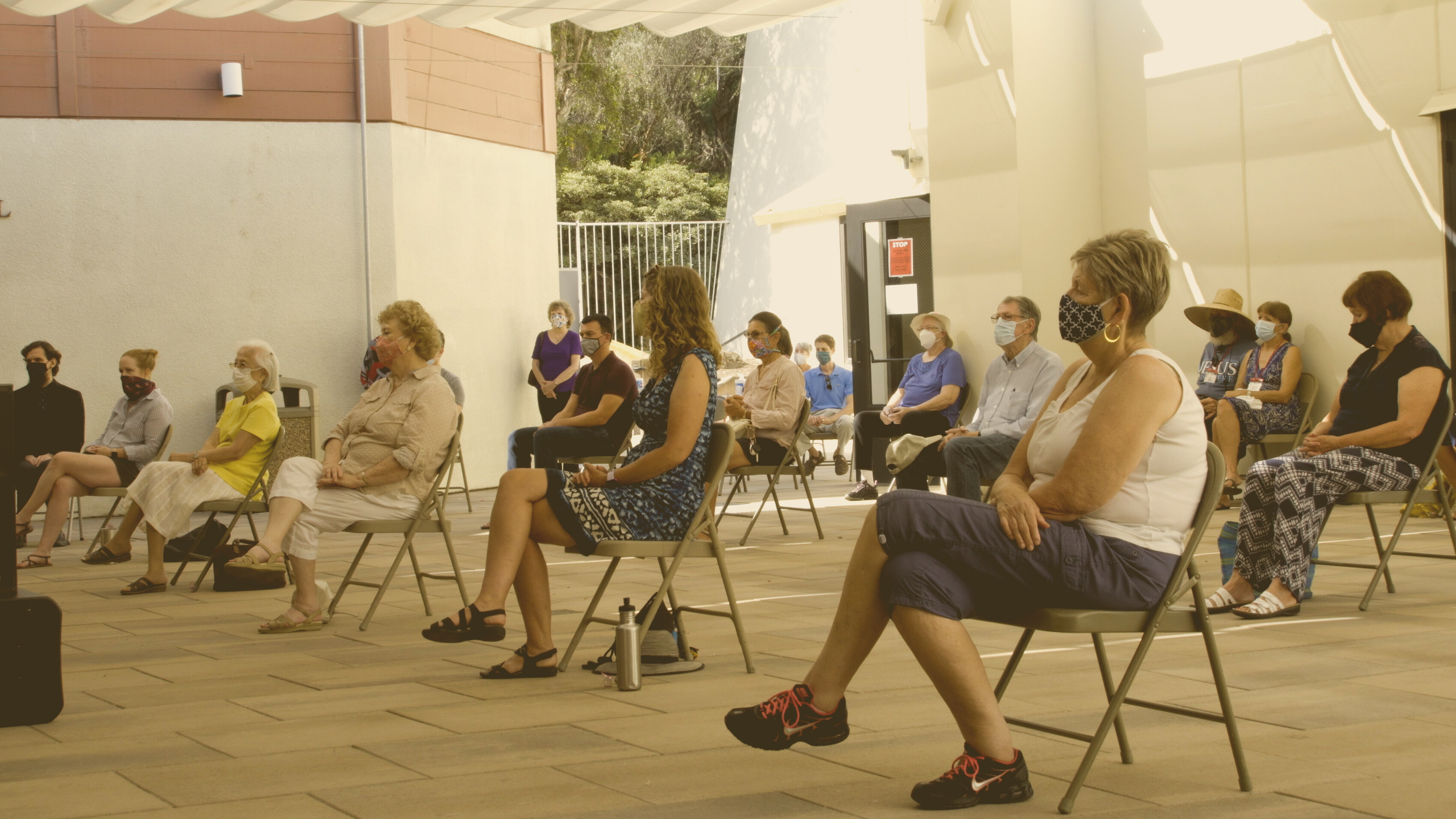 Oct. 7, 2020
In-Person Communion Services
What a joy it was to see you! One hundred and eighty-five people returned to the Mission Valley campus and 32 people to the Ocean Beach campus over six different brief world communion services on October 3 and 4. Some highlights include the tears people shed of gratitude for simply being at the church, the smiling eyes we saw above the masks as people greeted each other from a distance, the moment the bell tower called us to worship with a hymn and the spontaneous humming that arose in response, and hearing others voices as we prayed the Lord's Prayer together. Overall it was a great success!
We learned a lot about returning to church and what we need to do to ensure that we return safely. For this, we need your help. While most everyone were compliant with the rules and guidelines we set forth, there were some things we need to do better for the sake of everyone's health.
We need your help
Register in Advance.
We did have just a few unexpected guests and we realize that there was some glitches in the registration process. When you register be sure to follow all the prompts until the final submit button. Then watch for a confirmation email to arrive for you immediately following. If you do not get that email, you are not registered. Additionally, there will be a second follow-up email giving you specific details for the event for which you are registered from the event host. Watch for that email as well, and follow those instructions. We will not be able to accommodate walk-ins, so if you do not register, you will not be able to attend.

Wear a mask, both indoors and outdoors.
The San Diego County Health Department has stated that this is one of the four requirements in order for us to beat the spread of COVID-19. Be mindful that as we speak, the masks slips below our noses. Be sure to adjust your mask frequently and alert others when they need to do the same.

Use hand sanitizer frequently
This is a second requirement by the Health Department. Use the hand sanitizer as you arrive, after you've received communion, and after any time you've touched a surface. Additionally, do not touch surfaces that you don't have to touch.

Follow the assigned traffic flow
This allows us to avoid passing others in narrow spaces. The information in the second confirmation email alerts you as to where you need to park and how to enter the event space.

Keep a six foot distance between you and anyone else.
It was so difficult not to stand closer for many of us. This applies both indoors and outdoors. This is the third requirement offered by the San Diego County Health Department.
With your help, we will keep everyone safe and continue to return to church.
Given the success of these events, we will continue to offer small, outdoor, in-person communion services the first Sunday of each month, although not as many. The next offering coincides with All Saints Day. Our brief service will include a remembrance of people we have loved and lost.
Register in advance for one of two services:
Nov. 1 - All Saints Day Communion Service.
Signup for each event closes on 10/29 or when filled to capacity.
Mission Valley Campus:
11:30 AM RSVP (max. capacity 45)
1 PM RSVP (max. capacity 45)
Ocean Beach Campus
1 PM RSVP (max. capacity 25)
3 PM RSVP (max capacity 25)