How First Church Music Ministry survived and thrived during Covid-19
March 2020 - Canceled Choirs and Lenten Concert
On March 10, 2020, the Jubilee Singers (former Contemporary Singers) held rehearsal to prepare for the Maundy Thursday cantata. That same evening, the Masterwork Chorale fine-tuned some last minute details of Brahms' German Requiem just a couple weeks before the scheduled performance. Two days later, as a result of fast-changing COVID regulations, we were forced to cancel the Chancel Choir Thursday rehearsal, and on the following Sunday, the choir offered their last live anthem exclusively for online congregation. After the service, Dr. Stan Wicks, then Director of Music, made a difficult decision to stop all choir activities and cancel the concert, but we still naively thought this unexpected hiatus wouldn't stay with us that long.
Zoom Singing and Sunday "Bubble"
A couple weeks into the lockdown, both the Chancel Choir and the Jubilee Singers (former Contemporary Singers) started to meet on zoom during our normal rehearsal times. Singing together on zoom was quite unrealistic and discouraging, so our zoom meetings mainly became a space for fellowship, which in our normal in-person choir activities, we couldn't enjoy as much, due to the busy practice schedule. It was a small silver lining during the pandemic. We talked about the events of each week and got to know each other better. We shared in the grief and frustration caused by the pandemic and the new ever-changing norms.
In the meantime, Carolyne DalMonte, our soprano soloist, was the only cantor/soloist who served during the first 2-3 months of the pandemic, as we were unsure if we could safely allow more singers in our Sunday "bubble." Eventually the other section leaders started to rotate in and we pre-recorded quartet anthems in the Sanctuary. Singing with masks and with a distance of 10ft or so from each other was very challenging for all of us.
"Miren Que Bueno, Pablo Sosa" presented by the Vocal Quartet, June 21, 2021
Carolyne DalMonte, soprano * Patricia McAfee, mezzo-soprano * Timmy Simpson, tenor * Christopher Stephens, bass * Jaebon Hwang, piano


Handbell Choir Forms
In one of the staff meetings, Pastor Jessica suggested starting a handbell choir, as we didn't feel we could safely run a singing choir. We took out our dusty handbells that had not been used for years from a closet and shipped them to the east coast to get them refurbished. When they came back several weeks later, in-door small group meetings were still not allowed. We had to wait a few months to actually start rehearsing in-person, but from the survey, we learned that there were many people interested in joining the Handbell Choir.
Christmas Virtual Choir
In the fall of 2020, there were many choir members who wanted to offer their contributions for the Christmas Eve service. Thanks to help from Kevin Miller, we were able to produce two of our very first virtual choir anthems. Since none of us had done it before, it was a learning experience for all of us. Many of the choir members were challenged to use today's latest technology and multiple smart devices. Additionally, for many of us it was frustrating to sing alone and record and listen to our own voices. Nevertheless, we developed our own ways of rehearsing on zoom and all the music staff worked hard to make sure as many people as possible could participate in the Christmas project.
Music Director Dr.
Stan Wicks Retires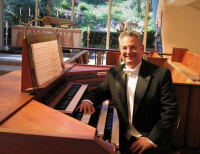 At the end of 2020, Dr. Stan Wicks made the difficult decision to retire and left for Pennsylvania. Of course, there was much anxiety around this, but I, Rev. Trudy, the members of the Vocal Quartet, and all of us together tried our best to keep the music ministry healthy in the face of great uncertainty. In our regular Zoom meetings, we sometimes had a specific topic to discuss, learned new hymns, and enjoyed a small virtual party. At choir members' requests, we produced more virtual anthems to premiere on important Sundays: Easter, Pentecost and Choir Appreciation Sunday. On Easter, we even invited some youth and guest singers and we had a total of 47 singers as well as 6 guest musicians! In addition, the Vocal Quartet and I produced weekly virtual anthems every week from January to June and the online congregation was glad to see our full faces.
"Christ is Risen Today", arr. David Johnson presented by First Church Virtual Choir and Westwind Brass on Easter Sunday April 4, 2021
Handbell and Summer Choirs Spearheading the Return to Church
In the meantime, after Easter, we could finally start Handbell Choir rehearsals. The Music Center's choir room turned into a bell choir room. With the help of Chris Stephens, our Bass Section Leader, we formed a group of 12 ringers and performed on Pentecost Sunday for the first time. Another group of 12 ringers started rehearsing after Pentecost Sunday and they performed on Choir Appreciation Sunday to end the choir season. Currently, all of our regular choirs are on summer hiatus and we hope to start a new season in September in a manner close to the pre-pandemic time.
"How can I keep from singing", arr. Bradley Ellingboe
Premiered on June 27, 2021 Choir Appreciation Sunday Virtual Choir, First United Methodist Church of San Diego Karen Voogd, Flute Jaebon Hwang, Piano
Most choir members have been fully vaccinated in the past months and we now see a thin ray of light as we approach what we hope is the end of the tunnel. On our first Sunday of in person Summer Choir, many choir members from both of our choirs as well as some new singers came together to participate in worship. Although we are still singing with masks (and we don't feel totally comfortable with it!), we are happy to be singing together. The pandemic has made us a stronger ensemble that cares for each other more than ever before. We are eternally grateful that we have been able to join together in music and offer our praises and thanks to God.
Dr. Jaebon Hwang
Director of Music Ministries and Organist at First UMC San Diego