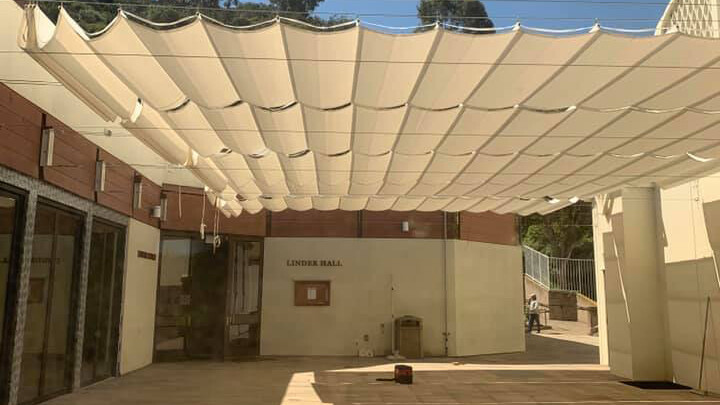 We are anxious to gather together, but it looks like we'll be practicing physical distancing that will limit our fellowship for a while. But when it is safe, we'll be ready!
A lot has been happening on the campus while you have been away. We have new doors, cabinets and AV system in Linder Lounge, new paint, and carpet in Linder Hall and new shade sails on the plaza. The Hospitality Makeover project is in full swing.
When the Stay at Home came into affect all of the work that was in progress came to a halt. We were left with plywood closing up the space where the new doors were supposed to be in Linder Lounge, plastic covering everything in lounge and lining Linder Hall and half painted doors throughout.
After those first few weeks businesses started to figure out what was deemed essential, construction being one of those, and I started receiving calls from our contractor letting me know that the crews were ready to come back to work. We put in place expectations for the safety of the workers and church staff, moved hand sanitizer stations into the work area and let the crews. They came with masks, and new procedures and expectations from their own companies for social distancing to finish the job.
It was been really fun to watch such rapid progress finally taking place. Since we are are not having to work around all of the church and community events that our building hold on a weekly basis, the crews have had free rein to leave tools out, and work straight through each of their respective tasks making the process much faster than we have seen in the last year.
My wish and goal is to have these spaces completed by the time we all return. I look forward to being able to celebrate in them together when we return. Until then may God keep you healthy and bring you peace knowing your church is well, being taken care of and growing more beautiful by the day.
See all the pictures here
Amy Kerrigan
Director of Facilities and Events
The Hospitality Makeover project was made possible by funding from the Board of Trustees, most notably through the gracious estate gifts of Murray Mott and Wayne Lee Brown.