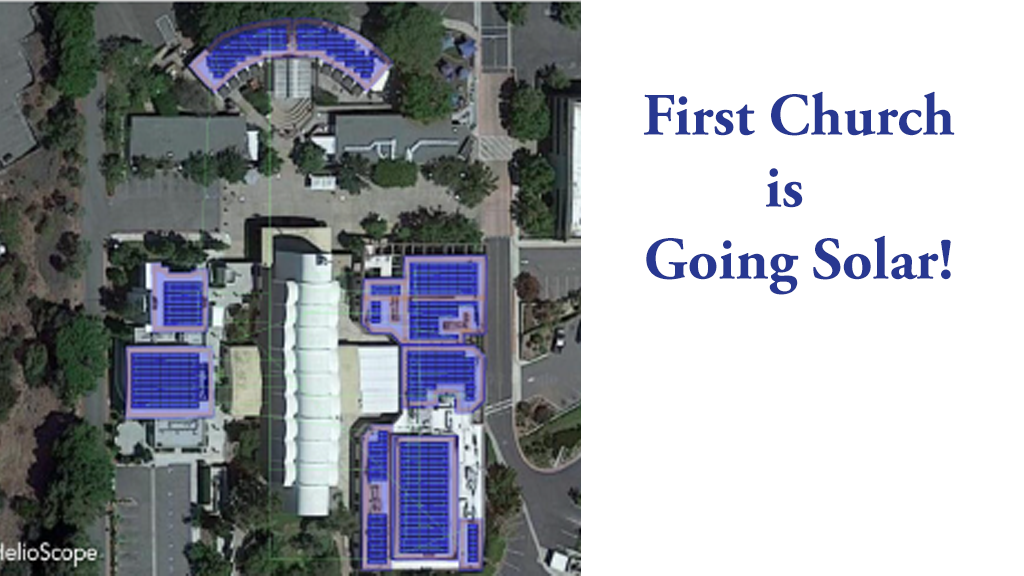 I am pleased to announce that the Board of Trustees (BOT) has approved a solar energy project at the UMC Mission Valley campus. In addition to contributing to the care of God's good earth through the reduction of our use of fossil fuel generated electricity, we expect a reduction of our SDGE electric bill of approximately 50% within three years of installation. This means a payback on our investment in your church funds after 36 months. What is even better, our partner in the project, Sunistics Group, guarantees their work and our projected cost savings.
The project will place solar panels on the roofs of Linder Hall, Trotter Chapel, Music Center, and the Children's Growing Center. The project is expected to begin this summer with completion late this fall, barring any unforeseen circumstances. What might be a second phase of the project is the placement of solar panels in our parking lots, with future options to install EV charging stations and battery storage.
Funding for this project will NOT forgo our need to continue to care for and maintain your other church properties. We have other projects in the pipeline to maintain the Mission Valley and Ocean Beach buildings.
Be assured we have not forgotten our need to replace our HVAC system in our Sanctuary! The staff and BOT are actively seeking bids for that system.
The BOT, along with the pastoral staff, greatly appreciate and thank you for your continuing financial support of our ministries and our church home!
Nick Hubsmith, Chair
Board of Trustees