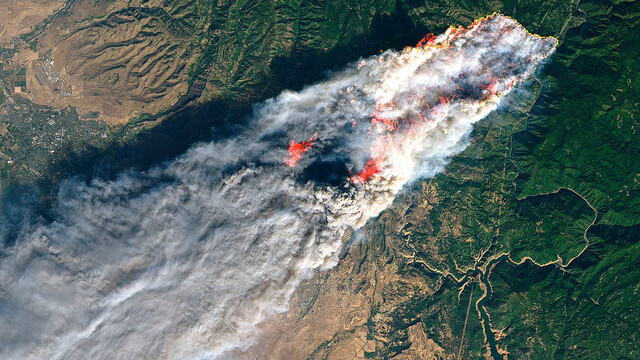 Interview with Bob Wilson during Sunday, Dec. 23 sermon:
Let me share a truly upbeat, positive story, even though it arises from a great tragedy, the northern California fire that burned down the town of Paradise – a catastrophe so vast as to be beyond one's ability to comprehend.
Bob Wilson is a member of the First United Methodist Church of San Diego, where I see him most Sundays, sitting in his normal pew, across the aisle from where my wife and I sit.
Recently, there was a story about him in the Union-Tribune. The story was in response to the Union-Tribune learning that Mr. Wilson had decided to give one million dollars to the students, faculty, custodial help, and administrators of Paradise High School, which burned down, along with everything else in that terrible fire — as nothing was left standing. He made his decision to do this on a personal level, wanting, he told the Union-Tribune, to avoid the bureaucracy he finds in too many charitable organizations.
Mr. Wilson will journey to northern California and meet with those young people and others from Paradise High and personally give each one of them checks for $1,000. He will do this because he's a moral person and a man of principle, but most importantly, Bob Wilson is a man of faith, a Christian who believes – truly believes – it is more blessed to give than to receive.
And every day in your America and mine, there are millions who give of their time and means to help those in need. They can't write million dollars like Bob Wilson, but they do what is possible, and by their acts of kindness and generosity keep alive the flame of hope.
Read the whole story here: Bob Wilson's Generosity.http://enewspaper.sandiegouniontribune.com/…/article_share.…
George Mitrovich
Photo credit: Stuart Rankin. Edited Landsat 8 image of the Camp Fire on 9 November 2018, in Northern California. The city of Paradise is in the middle of the flames.