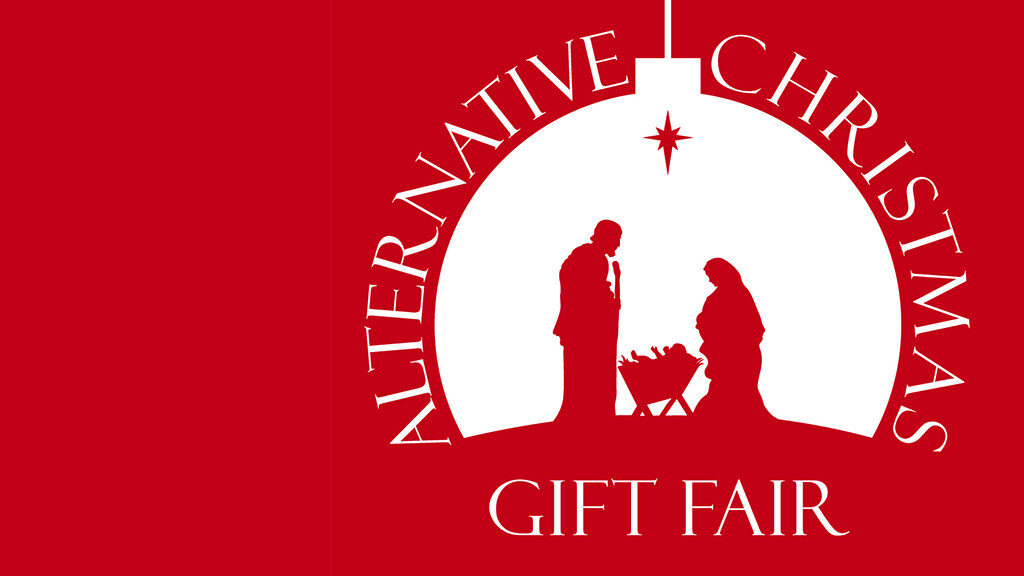 Our fair gives you a better alternative to Christmas shopping!
You are invited to "purchase" symbolic gifts which will fund our

Ministries of Compassion and Justice work.

We will give you a gift card to give your loved one, and the price of what you would have spent on more stuff will enable amazing things to happen for others.
Our online store is open THROUGH THE HOLIDAYS
To purchase gifts online
, scroll to the bottom of this page and select the "Purchase Gifts Online" button.
The Border Church/La Iglesia Fronteriza
Border Church/La Iglesia Fronteriza promotes sacred and sacramental presence on both sides of the U.S.-Mexico border as a witness to Christ's solidarity with the peoples of the U.S.-Mexico borderlands. The Border Church team in Mexico works closely with its fiscal sponsor, the non-profit organization Via International, to support migrants and deportees seeking to establish self-reliant communities in Tijuana.
Food Ministry - Wesley UMC
First Church has a long-standing relationship with Wesley UMC to meet the needs of hungry people by distributing food. We provide fresh fruit, vegetables, bread, milk and eggs to over 150 individuals and families every week - meeting their physical needs with food and their spiritual needs with God's love.
Loaves and Fishes Food Ministry - Ocean Beach
Each week OBEFI provides pre-packed bags of groceries to food insecure people in the OB and Point Loma area. This is more than a 100% increase in demand since the beginning of the COVID-19 pandemic. The Food Bank is Gold Certified for its healthy food options. We rely on donations of food and money to ensure we can be successful in our mission of being an emergency food.
The Interfaith Shelter Network is a cold weather shelter that operates from approximately October through April. Each year First Church participates in a two-week long rotation and several of our rooms become home for 12 to 15 people who are working toward finding permanent housing. We provide a safe place for them to sleep, eat, and shower.
New Entra Casa is a residence in North Park where recently incarcerated women can find sanctuary while they rebuild their lives by finding employment and schooling. Upon leaving this house, a woman is ready to take her place as a contributing member of the community. Our United Methodist Women have supported this house since its founding in 1972.
The River (LGBTQIA fellowship) for Christie's Place
The River at First United Methodist Church of San Diego partners with Christie's Place, an organization working to strengthen the health and resilience of women, children and families impacted by HIV/AIDS In San Diego. The River provides donations of hygiene goods throughout the year to distribute to women and families. We also work with Christie's Place to support morale events (like Thanksgiving and holiday parties) with monetary donations, gifts, and our volunteer efforts.
First Church has partnered with Christ Ministry Center and the Safe Harbors Network to provide emergency resource support for refugees and asylum seekers in the San Diego area. We help meet the immediate needs of individuals as they seek to create a stable life in their new home country.
This nationwide charitable program begun in 1992 provides shoes, socks and other clothing for low-income children so they can attend school in comfort and with dignity. FUMCSD has been helping with this program for over 20 years. Your gift will provide shoes and socks to students who are recommended by their nurse or counselor at several local elementary schools including our partner school, Cherokee Point.
Rev. Mutwale Ntambo Wa Mushidi Tanzania Missionary, Africa
Rev. Mutwale Ntambo Wa Mushidi serves as the Director of Church Development and Evangelism for the UMC Tanzania, Superintendent of the Dar as Salaam District and the legal representative in Tanzania of the Bishop in the Democratic Republic of Congo. He and his wife, Kabaka Noala Alphonsine (also a missionary), work in Christian education and health information and reach out to many women in the area. The guest house is now open, thanks partly to our support, and being used for retreats and meetings by Tanzanian Methodist churches. The preschool will be open in January 2023 and the secondary school is functioning. There are some poor children in the school who need uniforms, shoes, books, supplies, and transportation. The next building project is a sanctuary for worship in Dar as Salaam.
Racial Justice Endowment Fund
The Racial Justice Endowment was established in 2020 as one of several tangible steps First Church can take to combat racism in our community. Each year, earnings from the Endowment support the Racial Justice Grants program that provides funding, volunteer support, and awareness to San Diego nonprofits that: 1) advocate for anti-racist policy and practices, and/or, 2) provide direct service to Black, Indigenous, and other People of Color throughout the county. Gifts from the Alternative Gift Fair will help grow the Endowment, increasing the amount of grant money available to organizations each year.
Our Online "store" will open through Christmas